by Katherine Kam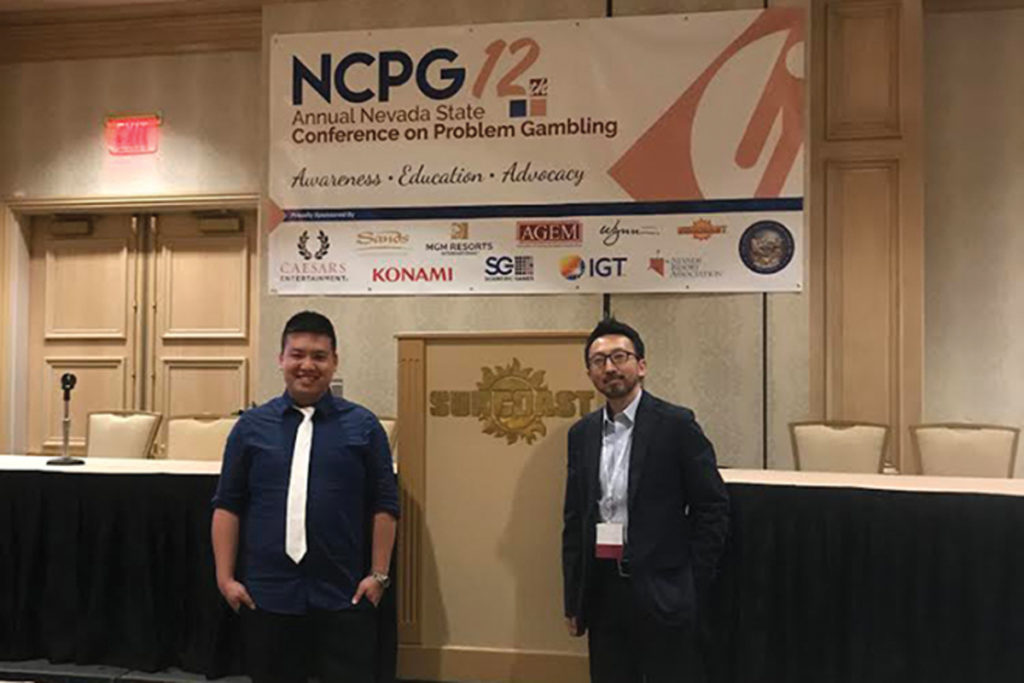 The students listened attentively as Ryan Wong explained how casinos keep customers chasing that elusive jackpot.
Labyrinthine layouts force guests to walk past card tables and slot machines in search of well-concealed restrooms and exits, said Wong, an intern at the nonprofit NICOS Chinese Health Coalition, a San Francisco partnership of health and social service organizations. Casinos ply customers with free alcohol to loosen inhibitions, and clocks are nowhere to be found.
"You lose track of time," Wong, 23, told the members of an Asian-American studies class at City College of San Francisco. "The more you gamble, the more it favors the casino."
NICOS staff members and interns visit Asian-American studies classes around the San Francisco Bay Area to talk to students about gambling because studies suggest Asian-American college students have a higher rate of problem gambling than their peers. NICOS hopes to reduce their risk.
It's not that they gamble more than others but that they are significantly more likely than their white, black or Latino counterparts to report unhealthy gambling behavior, according to a 2016 study in the Journal of Gambling Studies. It found that 8 percent of Asian-American students at a large public research university in Texas met the criteria for pathological gambling, compared with about 5 percent of whites and 4 percent of blacks and Latinos.
Problem gambling includes lying about losses, feeling guilty about gambling, and missing school or work because of it.
When problem gambling worsens into an addiction, also known as pathological or compulsive gambling, people fail repeatedly to curb their habit. And if they manage to stop, they have withdrawal symptoms, including restlessness and irritability. They gamble increasing sums to maintain the rush of excitement.
Why Asian-American students have a higher rate of gambling-related problems is not entirely clear, said Nolan Zane, a professor of psychology and Asian-American studies at the University of California-Davis.
He thinks cultural, social and psychological factors all play a role. In many Asian cultures, he noted, a "belief in good luck or fortune pervades customs and rituals."
At family and social events, for example, many Asian-American adults bet money in games that involve skill and chance, such as mahjong. Often, they teach children to play, too. Exposing youngsters to gambling at an early age tends to normalize it.
"If you look across cultures, anytime there's a behavior that's more acceptable, then people are more likely to develop problems with that behavior," Zane said.
Zane's research suggests that impulsivity is not a factor in problem gambling among Asian-American students, as it is for white students. Rather, they gamble to cope with negative feelings, such as anxiety, shame, loneliness or a sense of being disconnected from the college culture or mainstream society.
Asian-American studies departments at Bay Area colleges first approached NICOS more than a decade ago about educating students, said Michael Liao, the organization's program director. "Instructors were noticing that gambling affected their students, either directly or through someone they knew, like a family member."
Liao has firsthand experience: His stepfather attempted suicide after racking up insurmountable gambling debts and losing the family's life savings.
Some immigrants who work at low-paying jobs are under financial strain and perceive gambling as a magic ticket, especially if their English is poor, Liao said. "'Oooo, that next lottery ticket, that next trip to Vegas — that could be my way out, my way to send my kids to that school that they want to go to.'"
Even well-educated young Asian-Americans can get caught up in the allure of big money. College graduate Calvin Zhao's ordeal began at age 21. He was an assistant and translator for an investor in a cosmetics company. The man was known as a high roller, or "whale" in casino parlance — a customer who wagered thousands of dollars in a single day. Zhao tagged along with his boss to the casinos.
"I would spend days, even all-nighters, in casinos," Zhao recalled.
When he started betting his own money and lost several thousand dollars, he realized his gambling had become a harmful habit. "You lose money, you get sad," he said. As his gambling habit grew, Zhao said, he became more isolated.
He ultimately broke the bad cycle by quitting his job and setting limits on his gambling. His scrape with problem gambling led Zhao, now a 23-year-old graduate student at San Francisco State University, to study unhealthy gambling among his Asian-American peers on campus for his master's thesis.
If students visit casinos, NICOS offers these tips: Limit spending by leaving credit and debit cards at home, and set an alarm on phones or watches to signal when it's time to quit.
When students ask Zhao for advice about their own gambling worries, he tells them that gambling itself isn't a bad thing. Just "don't do it excessively," he said. "Even if you lose, you should be OK with what you lost."
This story was produced by Kaiser Health News, an editorially independent program of the Kaiser Family Foundation.