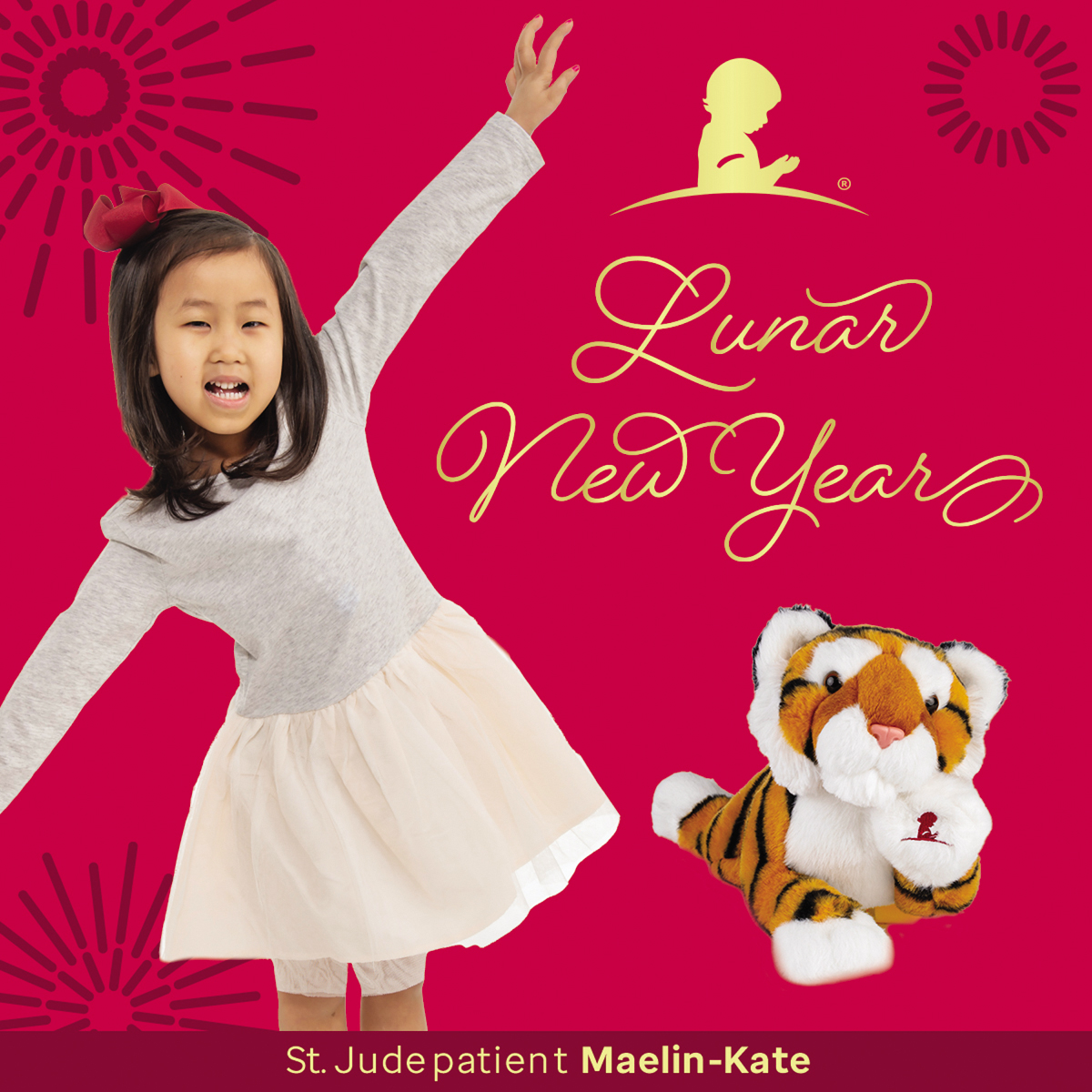 MEMPHIS, Tenn. – Gold House is partnering with several Asian and Pacific Islander-owned brands for its second annual Lunar New Year campaign for St. Jude Children's Research Hospital®  to bring good fortune to St. Jude patient families and raise awareness and support for its lifesaving mission: Finding cures. Saving children.®
From February 1 through April 30, when shoppers purchase from participating brands, they will have the option to donate to St. Jude during the checkout process. Additionally, a portion of the proceeds from each sale will go toward St. Jude research and treatment of childhood cancer and other life-threatening diseases.
Pediatric cancer is a trillion-dollar, multi-year problem, requiring millions of supporters coming together to solve. The public and partnerships like this one make it possible for St. Jude to save children together.
"Gold House is proud to once again partner with St. Jude Children's Research Hospital to direct the collective power of API-founded businesses in the Gold House community toward supporting and advancing its crucial research and treatment of cancer and other catastrophic children's diseases," said Mikkoh Chen, Head of Gold House Futures.
Last year St. Jude launched its six-year, $11.5 billion strategic plan – the largest in St. Jude history – to create a brighter future for children with cancer and other catastrophic diseases by delivering on its promise to triple its global investments and help more of the 400,000 children with cancer around the world each year.
Thanks to generous supporters, St. Jude has pressed ahead with a vital collaboration with the World Health Organization to increase global access to pediatric cancer medicines, which will allow St. Jude to impact as many as 120,000 young cancer patients in 50 countries by 2027.
Participating brands in the Lunar New Year campaign include Covry, Dagne Dover, Duck Duck Books, Fly By Jing, Glow Recipe, Health-Ade, Neuro Gum, Nona Lim, The Qi, Sanzo, and Tochi Snacks. These companies offer a wide array of products, including food, condiments, beverages, books, eyewear, beauty and handbags. Several of them are members of the Gold House Founder Network, a cross-industry community of promising Asian and Pacific Islander entrepreneurs and business leaders.
St. Jude patient families embody the strength and courage of the Tiger. Among the children who are thriving after receiving treatment at St. Jude are Calvin who had an aggressive, non-cancerous brain tumor called craniopharyngioma, Max who had retinoblastoma, a cancer of the eye, and Maelin-Kate who was diagnosed with a rare blood disease called Fanconi anemia. A limited-edition Tiger plush toy named after St. Jude patient Maelin-Kate is available via the St. Jude Gift Shop.
For additional campaign information, visit stjude.org/lunarnewyear.  (St. Jude Children's Research Hospital Release)