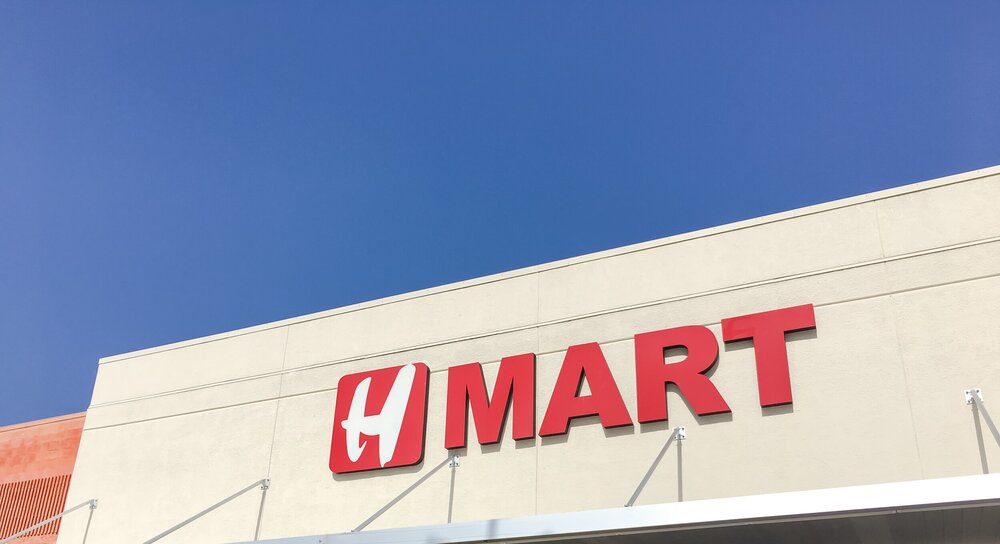 SAN FRANCISCO – H Mart will open its new 42,000-square-foot store in San Francisco, CA located at 3995 Alemany Blvd. at 10 a.m. on Wednesday, April, 21.
The location, which will be at the Ocean View Village Shopping Center, will be the first H Mart store in San Francisco.
H Mart features a variety of fresh produce groceries, meats, seafood, health and beauty products, frozen foods, and quality services, supporting and contributing to the local community. Supplied directly from its California warehouse and local farms, H Mart brings fresh goods and produce to the local neighborhood in San Francisco.
H Mart's one-stop-shopping experience highlights unique food selection and welcoming experience for the entire family and local foodies. The new store will feature an in-store food hall offering various cuisines, as well as Paris Baguette, a popular Korean bakery.
Food Hall highlights
In addition to grocery shopping, customers will be able to grab a bite to eat from its mega food hall called "Ktown Food Hall." The store's food hall will feature authentic and fusion Korean food, and Chinese cuisine:
DA PAN: Asian Fusion
Hong Kong Ban Jeom: Korean Style Chinese Cusine
DA S.F.C: Korean Casual Food
DAEHO: Korean Authentic Cusine
Left Wing: Korean style Fried Chicken
Paris Baguette bakery (coming soon): Bakery serving coffee/beverages, breads & pastries, sandwich and salads, cakes and desserts
"We're happy to welcome H Mart to San Francisco," said San Francisco Mayor London N. Breed. "The community has been asking for a grocery store for a long time, and we are glad to see this space finally being filled. This new store will provide local jobs, and makes it easier for the neighborhood to access quality food, and help support our economic recovery as we emerge from this pandemic."
H Mart President Brian Kwon said, "As the community waits for H Mart San Francisco to open, we will prepare hard every day to serve customers and go beyond any expectations. We assure that H Mart San Francisco will be a destination where customers can truly enjoy "Good food for all."
He added, "We are confident that people in San Francisco and the surrounding communities will be very pleased with H Mart's opening."
This store is anticipated to hire a total of 150 part-time and full-time employees and has participated in San Francisco's First Source Hiring Program in partnership with the Office of Economic and Workforce Development (OEWD).
Together with community partners including Inner-City Youth, Young Community Developers, and Self-help for the Elderly they hosted three job fairs, interviewed 317 applicants and hired for 91 positions to date. OEWD and community organizations will continue to work with H Mart to fill open positions. Interested job seekers may apply at [email protected] or call 562-551-2376.
The Ocean view site has been vacant since 2013, at which time OEWD, along with community stakeholders including the Merced Extension Triangle Neighborhood Association, worked to attract a grocery store to the location. In 2018, H Mart signed a lease with Ocean view Village and has invested over $8.5 million in Capital Improvements.
"It is a distinct privilege to welcome H Mart into our neighborhood. May their success be the success for the greater region, as we look forward to a state-of-the-art supermarket for the community," said Marc Christensen, Merced Extension Triangle Neighborhood Association President.
H Mart Savings Card
H Mart Smart Savings Card is a free loyalty membership program that allows customers to redeem a $10 gift card every 1,000 points ($1=1point). Smart Card members are provided with special deals and exclusive benefits. Customers can sign up for a new Smart Savings Card through the H Mart mobile app, available on Apple Store and Google Play, featuring smart shopping tools and easy access to weekly sales.
H Mart is a leading Asian American supermarket chain with more than 90 stores in the U.S., including 12 locations in California.
H Mart started with the first store in Woodside, NY back in 1982. H Mart offers essential grocery goods and entertainment in more than 14 states in the U.S. It serves both traditional Asian and American groceries, with fresh produce, meat, poultry, fishery, and RTC (Ready-To-Cook) items.
H Mart is recognized as one of the fastest-growing retailers in the National Retail Federation's HOT 100 RETAILERS (#13 H Mart). Moreover, Supermarket News has listed H Mart as one of the Top 50 Small Chains and Independents in the United States & Canada.
Information about events, special promotions, and sales are available on the H Mart's website (www.hmart.com), Facebook and Instagram page (@hmartofficial), KakaoTalk (ID:hmart_north_ca), Telegram and WeChat (ID: hmartofficial).
H Mart San Francisco is located at 3995 Alemany Blvd., San Francisco, CA 94132. (Advertising Supplement)