"Pinalitaw ng Panginoong Diyos ang magandang ugali, magandang kabihasnan, magandang pagsa- samahan ng mga Batangueno. Salamat. Kahit kayo ay taga-ibang lugar, kahit kayo ay hindi Batangueno at tumutulong sa nagdurusa, sa mga nahihirapan dito sa Batangas, ipahintulot nyong sabihin ko ito sa inyo—kayo rin ay Batangueno! May pag-asa tayo," said Cardinal Emeritus Gaudencio Rosales
This appeal entitled "Babangon Ang Batangas" — made by His Eminence Cardinal Emeritus Gaudencio B. Rosales over Radio Verittas Philippines a few days after the January 12, 2020 eruption of the Taal Volcano — inspired the Batangas City-Sto. Niño Devotees Association into action to find ways and means to provide relief aid for the Taal Evacuees.
On January 24, 2020, President Fe Remo Bueno of the Batangas City-Sto. Niño Devotees Association convened an emergency meeting of the association's Board of Directors and appropriated the amount of $6,100 for the relief aid for the Taal evacuees. Consequently, the Association opened a line of communication with the Archdiocese of Lipa through its subsidiary, the Lipa Archdiocesan Social Action Commission, Inc. (LASAC), the entity in charge of the Archdiocese's humanitarian endeavors. The association then requested the Archdiocese for assistance in the distribution of the relief aid materials for the evacuees.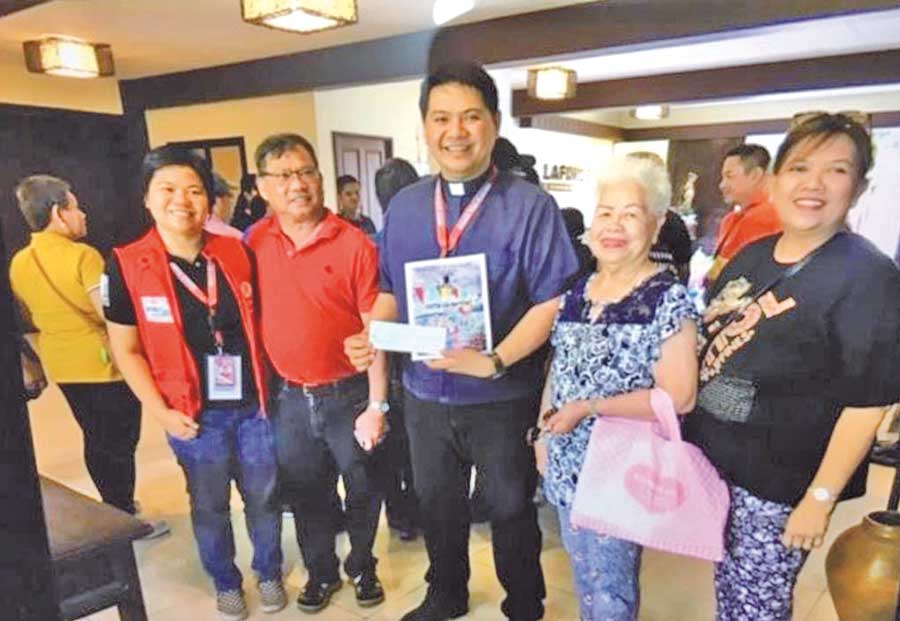 Bueno then appointed Board Member Bobby Reyes to oversee the Association's "Bangon Batangas" project and was instructed to proceed with a fundraising dinner buffet event on February 9, 2020, with co-host Willie Carandang of Hapag Pilipino Restaurant in Daly City, California. Prospective donors were invited to the buffet dinner, free of charge, with a request to donate to the "Bangon Batangas" relief aid project. The restaurant provided the venue and donated the buffet dinner to the fundraising event. The association set a goal of $10,000 (including the previously appropriated $6,100.00)
It was a full house at the Hapag Pilipino Restaurant during the fundraising event. The fundraising was a complete success, raising $7,355, bringing the total funds raised for "Bangon Batangas" to $13,455, exceeding the association's barometer of donation goal by $3,455. The group thanks two anonymous donors who donated $1,000 each.
On February 15, 2020, a check in the amount of PhP606,720.00 ($12,000.00 at the rate of ex-change of P50.56 to $1) was delivered by Rod & Rhona Bautista and Letty Maneja, members of the association, to the Archdiocese of Lipa. The check was received by Fr. Jayson Siapco, director of LASAC, on behalf of the Archdiocese of Lipa.
The Board of Directors of the Batangas City-Sto. Niño Devotees Association are: Fe Remo Bueno-President; Jason Alcantara-Vice President; Bobby Reyes-Secretary; Philo Mendoza-Treasurer; Clarito Agustin-Auditor and Marlon Macaraig-PRO; Board Members: Romel Chozas-Immediate Past President; Bayani Baliwag; Christian Buquid; Ching Calucag; Malou Ateinza Cuasay; Melvin Maca- tangay; Delia Godoy Montano; Ardie Perez, Cecil Zaraspe and Joseph J. .Minioza, Legal Counsel.