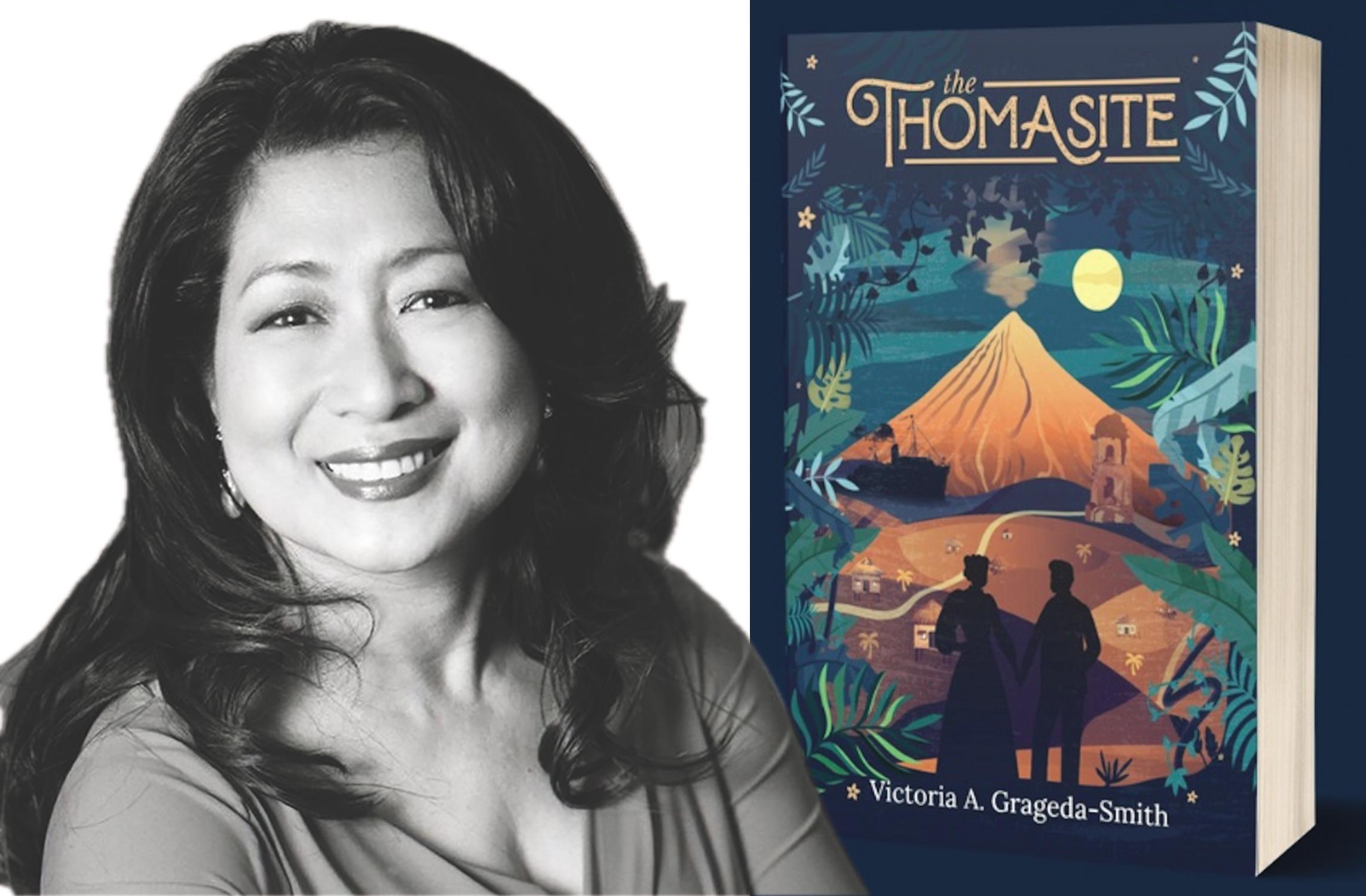 THIS is not the first time Asian Journal has featured Filipino American author Victoria Grageda-Smith, and her literary works. Back in 2016, when her novella, "Faith Healer" (Brain Mill Press, 2016), had just won an award and was launched at the Association of Writers and Writing Programs (AWP) Conference at the L.A. Convention Center and Beverly Hills Library, Grageda-Smith's literary works and career were already on people's radars. Today, Grageda-Smith (who insists on being called "Vicki") is a multiple-awarded American author published in all the creative writing genres of fiction, poetry, and nonfiction.
This year, Vicki has released a new novel, "The Thomasite," which is available at Philippine Expressions Bookshop (479 W. Sixth St., Unit 105, San Pedro, CA), and online retailers like Amazon.
"The Thomasite" was published by Orange Blossom Publishing on May 30 and chosen among outstanding debut novelists' works that the Orcas Island Literary Festival featured in June. The novel is based on the little-known or forgotten history of the more than 500 American teachers who sailed on the U.S. Army Transport Thomas (and thus their name, the Thomasites) in answer to U.S. President McKinley's call to go to the then-new U.S. territory in Asia, the Philippine Islands, to teach Filipino boys and girls. The book has begun to earn five-star reviews among readers, especially on Amazon.
When asked how she got the idea for "The Thomasite", Vicki replied, "I was inspired to write the novel as a high school student in the Philippines during a history class about the Thomasites. I was so fascinated by their story that I promised myself I would write a book about them one day. That day is here. I wrote the novel during the pandemic seclusion, and my determination to bring out the Thomasites' story to the world likewise became my personal story about holding onto one's dreams and what persistence and perseverance could achieve."
Vicki was born in the Philippines, the eldest of ten children. She started writing her first novel at ten years old – a mystery about a lady archeologist off to an adventurous dig in Egypt. Unfortunately, her handwritten copy of that fledgling book got lost during her parents' move to their new family home. As a contributor and then editor of her elementary and high school papers, she wrote and published poetry and essays.
Vicki's creative writing took a back seat in college when, compelled to choose a career that could help her support her family, she chose to go to law school. Through full academic merit scholarships, she graduated Magna Cum Laude in her pre-law class and top ten of her graduating law class at the University of the Philippines. She also earned a Master of Laws from the University of Michigan School of Law at Ann Arbor.
As an associate counsel in the world-class Manila law firm of Sycip, Salazar, Hernandez & Gatmaitan, Vicki represented Fortune 500 companies and pro-bono, indigent clients before becoming the only female attorney in the 25-lawyer legal department of the largest and oldest food, beverage, and packaging conglomerate in Southeast Asia, San Miguel Corporation (SMC). As she set out to start her own law firm, life threw the proverbial wrench at her well-laid plans. She fell in love with, and married the American consultant who had led the gigantic re-engineering project for SMC.
The challenges of an immigrant starting over in professional life, including motherhood sans her usual support network of Philippine family and friends amid her husband's frequent career-related travel, compelled Vicki to choose to be an at-home parent. While raising her young children, she rediscovered her childhood passion for creative writing. As a Filipino American author, Vicki saw it as her mission to celebrate the shared historical and cultural legacy of Filipinos and Americans.
In 2004, the first time she submitted to a writing contest, her short story, "Portrait of the Other Lady," won first place and was published by the Ventura County Star as part of her prize. Vicki is also the author of the Kirkus-acclaimed poetry collection, "Warrior Heart, Pilgrim Soul: An Immigrant's Journey" (Amazon, 2013). Her poetry appears in various literary journals and has been recognized with distinction in many poetry contests.
She is the author of the new story collection manuscript, "Daughters of the Bamboo", and a second poetry collection, "Mother of Exiles" – both of which she is now marketing to agents and publishers. Among Vicki's works-in-progress is a novel set in the Pacific WWII that she is writing while leading a nonprofit she recently founded to help improve the quality of life of Filipinos in the Philippines.
Readers may follow Victoria Grageda-Smith on VictoriaGSmith.com, Facebook Author Victoria G. Smith, Twitter @AuthorVGSmith, Instagram victoriagsmithauthor, and Amazon Victoria Grageda-Smith. n