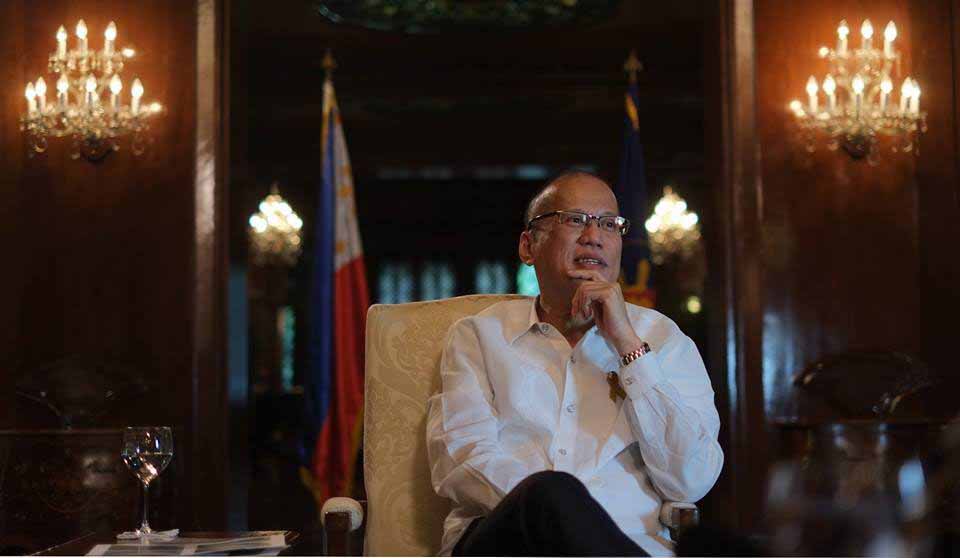 FILIPINOS in America and around the world were shocked to hear about the passing of Former President Benigno Aquino III, better known as Noynoy or PNoy (President Noy). After all, the predecessor of President Rodrigo Duterte had been quiet and hardly seen in public since his term ended in 2016.
The only son of the icons of Philippine democracy Sen. Benigno Aquino Jr. and former President Corazon Aquino joined his departed parents when he died at 6:30 am on June 24, 2021 in the hospital at the age of 61.
Reuters reported the confirmation of his passing, quoting the Aquino family statement read by Pinky Aquino Abellada, one of four surviving sisters. "It is with profound grief that on behalf of our family, I am confirming that our brother, Benigno 'Noynoy' Aquino III, died peacefully in his sleep."
According to the statement, Noynoy died of renal failure as a result of diabetes. His family also said PNoy had spent the last year of his life in poor health.
The Associated Press (AP) reported that "a former Cabinet official, Rogelio Singson, said Aquino had been undergoing dialysis and was preparing for a kidney transplant." Unfortunately, Noynoy had finished running his race before that could happen.
"Mission accomplished Noy, be happy now with Dad and Mom," the AP quoted Abeleda saying, using her brother's nickname as she struggled to hold back her tears.
U.S. President Joe Biden mourns with Filipinos in America and around the world with a statement saying:
"I extend my deepest condolences to the people of the Philippines on the death of former President Benigno 'Noynoy' Aquino III. He was a valued friend and partner to the United States, and he will long be remembered for serving his country with integrity and selfless dedication. President Aquino's steadfast commitment to advancing peace, upholding the rule of law, and driving economic growth for all Filipinos, while taking bold steps to promote the rules-based international order, leaves a remarkable legacy at home and abroad that will endure for years to come. I greatly valued our time working together, and I extend my heartfelt sympathies to his family and to all who will mourn his absence."
The  Washington Post  reported on President Aquino's demise, describing PNoy as "the son of two icons of Philippine democracy: Benigno Aquino Jr., a former senator who was assassinated upon his return from exile in 1983, and Corazon Aquino, a homemaker who rose to lead the opposition to the Marcos's autocratic rule after her husband's death."
Highlighting his legacy, the Post said President Aquino was a "staunch campaigner against domestic corruption and China's territorial claims."
The  New York Times  chronicled that following the death of Former President Cory Aquino in 2009, "her son was carried to the presidency on a groundswell of sentimental support, succeeding an unpopular president, Gloria Macapagal Arroyo."
Overwhelming support among Filipinos catapulted Aquino to the presidency despite his lack of charisma or the political acumen his late father Benigno Aquino Jr. had — because they trusted his character, integrity and genuine intent to serve the Filipino people.
He vowed to eradicate corruption in the Philippines toward "Daang Matuwid" [Straight Path], his campaign slogan, and he said this would be the key to lift Filipinos from poverty.
Many opine that his first biggest accomplishment was his landslide victory, which stopped the deposed President Joseph "Erap" Estrada from going back to Malacañang as president. Erap's term had been cut short by impeachment on graft charges. While many thought Estrada's attempt to run again for president was a joke, he actually placed second to Aquino in the polls. Had Aquino not run, Estrada could have been president again!
The  Times  reported how "Mr. Aquino stood up to China" discussing how under PNoy's leadership, "the Philippines was one of the few Southeast Asian nations willing to stand up to China. He effectively sued Beijing over the two countries' competing claims in the South China Sea, taking his case to an international tribunal in The Hague. In a landmark ruling in 2016, the tribunal found that there was no legal basis to support China's expansive claim to sovereignty over the waters."
The  Times  also lauded Aquino for the Philippines' economic growth during his term, the average of which surpassed 6%, "the highest in recent years, gaining the country investment-grade status from rating agencies. In the first quarter of 2016, shortly before the end of his term, the Philippine economy grew at a rate of 6.9%, which was, at the time, the fastest in Asia".
And despite the Aquino family's strong ties to the Catholic Church being devout practicing Catholic, the Times wrote that "one of his most significant achievements was the enactment of a reproductive rights law that made contraception readily available to the poor. To do so he faced down decades of resistance by the powerful Roman Catholic Church in an overwhelmingly Catholic country."
But the  Times  also reported on the pitfalls of his presidency, saying that "Mr. Aquino's difficulties began early. Two months into his presidency, a disgruntled former police officer hijacked a tourist bus carrying passengers from Hong Kong. Eight people were killed in a bungled rescue attempt. As a result, Hong Kong issued a warning advising residents not to travel to the Philippines."
The report likewise discussed criticisms about PNoy's sluggish response to the powerful typhoon Haiyan [called Typhoon Yolanda in the Philippines], which killed 6,000 people in the central Philippines in November of 2013. "Some Western nations, including Canada, cited the Aquino administration's lack of immediacy in their decisions to sidestep the government and donate money and aid directly to nongovernmental organizations instead."
The  Times  wrote that "in his greatest setback, 44 special forces police officers and a number of civilians were killed in 2015 in a botched attempt to capture one of the region's most-wanted terrorism suspects. The raid resulted in the largest single loss of life by Philippine police officers in recent memory."
"In 2017, the country's anti-graft prosecutor said Mr. Aquino should be held accountable for the officers' deaths because he had allowed a suspended national police chief, accused of corruption, to oversee the operation," the Times added.
Despite these setbacks that clouded his legacy, especially because of the negativity and toxicity of the 2016 presidential election, fueled by "fake news" and paid trolls to capitalize on the people's frustrations, President Noynoy Aquino had an approval rating of 57%, which is the highest of any outgoing president in recent times.
With PNoy's passing comes the outpouring of emotional testimony about the people's respect and gratitude to Aquino for his service and legacy, drowning all the name calling and tirade against him and his reputation perpetrated by his political opponents and their army of trolls.
His alma mater, the Ateneo de Manila University, posted on social media his last public address as president. He came home to Ateneo and addressed the graduating college class of 2016, encouraging them to truly be of service to others — the very mantra of the Jesuits: to be man (and woman) for others, for the greater glory of God.
Speaking in Filipino, Aquino ended his speech with a message that would resonate with us all:
"Anuman ang landas na inyong piliin, huwag niyo sanang kalimutan ang lahat ng ibinahagi sa inyo dito sa Ateneo. Ngayon, kasama ako sa mga buong-buong nagtitiwala sa inyo: Nawa'y humayo kayo at maging "Lux in Domino," taas-noo kayong maging Men and Women for others, at maging mga exemplar ng sigasig, malasakit, at integridad sa mahaba ninyong paglalakbay "down from the hill."
Thank you, President Noynoy Aquino. Rest in God's perfect peace.
* * *
The opinions, beliefs and viewpoints expressed by the author do not necessarily reflect the opinions, beliefs and viewpoints of the Asian Journal, its management, editorial board and staff.
* * *
Gel Santos Relos has been in news, talk, public service and educational broadcasting since 1989 with ABS-CBN and is now serving the Filipino audience using different platforms, including digital broadcasting, and print, and is working on a new public service program for the community. You may contact her through email at [email protected], or send her a message via Facebook at Facebook.com/Gel.Santos.Relos.