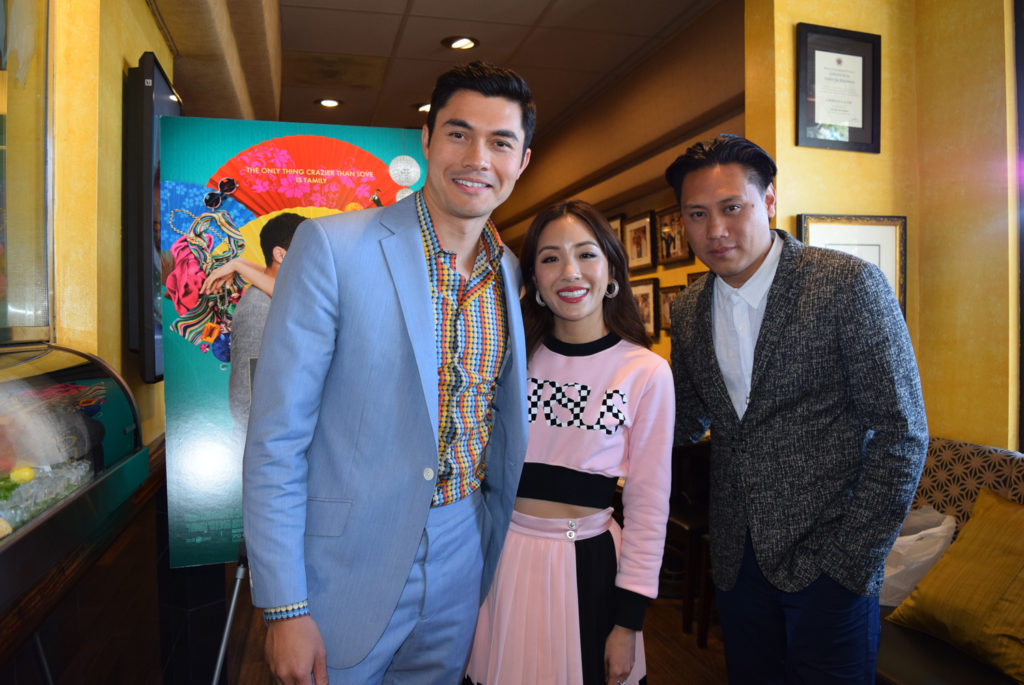 "CRAZY Rich Asians," a movie based on the first in a trilogy of books written by best-selling author Kevin Kwan, is opening on August 15 in US movie theaters.
Lead stars Constance Wu (of "Fresh Off The Boat" fame) and Henry Golding and director Jon Chu, who have been busy promoting the movie on a whirlwind media tour, recently sat down with the press at Chef Chu's in Los Altos to talk about the film.
"Crazy Rich Asians" centers on the story of Nick Young (played by Golding) and Rachel Chu (played by Wu), a young New York couple who are deeply in love. When Nick invites Rachel to join him for a wedding and meet his family in Singapore, where he is originally from, the unsuspecting Rachel is in for a surprise when she finds that her boyfriend is actually the heir apparent to a very large fortune of one of the richest families in the city-state.
Conflicts arise when the freedom to choose who you love is juxtaposed with family duty and obligation, and it is up to Nick and Rachel to navigate their way through all the hoopla, amid the pomp, celebration, anxiety, and scheming that takes place within the confines of the uber-wealthy.
Talking to the media, director Chu revealed that they had always wanted Constance Wu to play the role of Rachel Chu. That did not nearly happen as she was busy shooting for her show, but she pleaded her case and the rest is history.
"She made this amazing letter of how she wanted to represent Asian, Asian female, all this stuff, and it moved us so much that we said, 'Yeah, we are going to stop production and just wait for her.' It was worth every moment of that. And to have her as our spokesperson for this movie means everything. She's giving a lot of inspiration to a lot of people, including us," Chu related.
The casting of Golding, meanwhile, was heaven-sent as they found him in the middle of Singapore, after having auditioned countless actors in places like Vancouver, Los Angeles, Shanghai, Beijing, the United Kingdom, Australia, and Malaysia to play the role of Nick Young. According to the film's production notes, the actor cut short his honeymoon to do a face-to-face with Wu – the chemistry shown by the actors sealed the deal for the film's director and producers.
According to Golding, it has been amazing how much faith and support people put in him, especially since this is his first acting job. "This has literally changed my life. I made a hard right in terms of career path, and this will hopefully lead to bigger and better things," the actor enthused.
One thing that people may notice in the movie is how Asian masculinity is represented in the movie and this was a deliberate move on the part of the director.
"Absolutely!" Chu said, when asked if he wanted to break the Asian male stereotype in having some of the film's male stars take their shirts off. "When you have a hunk like this guy (points to Henry Golding), you show it off. If there's one thing I learned from filmmaking, it's that you show your goods. I think of my older brother who's a really good-looking dude, has fantastic abs… when he sees the movie and Nick come out in the white suit, he teared up. I've never seen him do that before. [He told me] 'You don't know how long I've been waiting to see an Asian male seen in this light, to tell the world that we exist and we're out there.'"
The director, who said the movie changed him by making him go after his moxie and set up the movie, also talked about the ever-changing definition of what it means to be masculine, and how this film adds to the conversation.
"There is now talk of representing Asians in this masculine way that we've never seen on film before. But we're also going through this transition of what it means to be masculine… we've always had this one-sided perception of what it means to be masculine, be a man and that's not true anymore. We're redefining what it is and I think that's really important to understand too," Chu said.
For Golding, abs talk aside, he thinks that all the characters in the movie have their own story to tell even if the story revolves around Nick and Rachel. "You don't have to be a leading man to be noticed. Jimmy Yang just revels in all his glory with his shirt off because he owns that space… to have that confidence is what Asians have been lacking in this form of media for a long, long time. And that goes down to the storytellers, the writers, and the actors," he added.
Although the film delves into a question of family sacrifice versus individual happiness, Chu says the film shows making a choice of one over the other is not set in stone.
"I think the whole point is you don't have to make one specific choice. Rachel's character shows that you can sacrifice for your family and pursue your own happiness all at the same time. When immigrants came here from other places [they came] with whatever was in their bags. Us, as a new generation, we have our own bags now. We're gonna look forward to our own kids – what are the lessons, what are the traditions we're gonna pass on. I think it's okay to question culture and traditions… I think respect it and question it at the same time because now we're making our own identity as Asian Americans here. We're all in this together," Chu explained.
"What I love about this movie is the movement Jon is starting. Movies, art and culture describe the culture, they don't rank it. What I love about what Jon has done is describing the many types of culture present, but it never puts a judgment on what type is better. The characters may have put judgments on each other but through the process of getting to know each other, they begin to understand each other's values, that we can all speak from the heart. And I think that's sort of the journey the movie takes," Wu said, while adding that working with Chu was a bonus as the director handled everything with love and grace.
Asked about plans for continuing the Nick and Rachel saga by adapting Kwan's other books into movies, the film's director said he would like the journey to continue, but it will depend on how well the movie does in the box office.
"I would love to. I think there's a lot more story to tell and explore, but that's up to the audience. If they go out and demand, then we will make it. So it's up to them. If anybody wants more, show up on that theater on opening weekend," Chu stated, to which Wu heartily agreed. 
Golding, Wu and Chu all declared that what they ultimately would like to see is for people to have fun and enjoy the movie, especially since it features an all-Asian cast. The last time that happened, according to Chu, was with "Joy Luck Club" about 25 years ago.
"I just want people to have fun and also to see an Asian couple lead a Hollywood studio movie. I think it's not because we can't and it's not because there's not the talent, but sometimes you have to see it to know that there is the possibility. And so I am really excited to share that with the world," Wu, who counts Oprah Windrey as a role model, said.
For his part, Chu said, "It's been fun to travel around the country and hear the people's reactions to us, people crying and telling us what it means to them… that means everything. I knew how personal it meant to me. I did not know how it would translate to the audience as much as it has."
"Crazy Rich Asians" also stars Michelle Yeoh, Lisa Lu, Gemma Chan, Awkwafina, Ken Jeong, Sonoya Mizuno, Chris Pang, Jimmy O. Yang, Ronny Chieng, Remi Hii and Nico Santos. Philippine Queen of All Media Kris Aquino makes a cameo appearance in the movie.