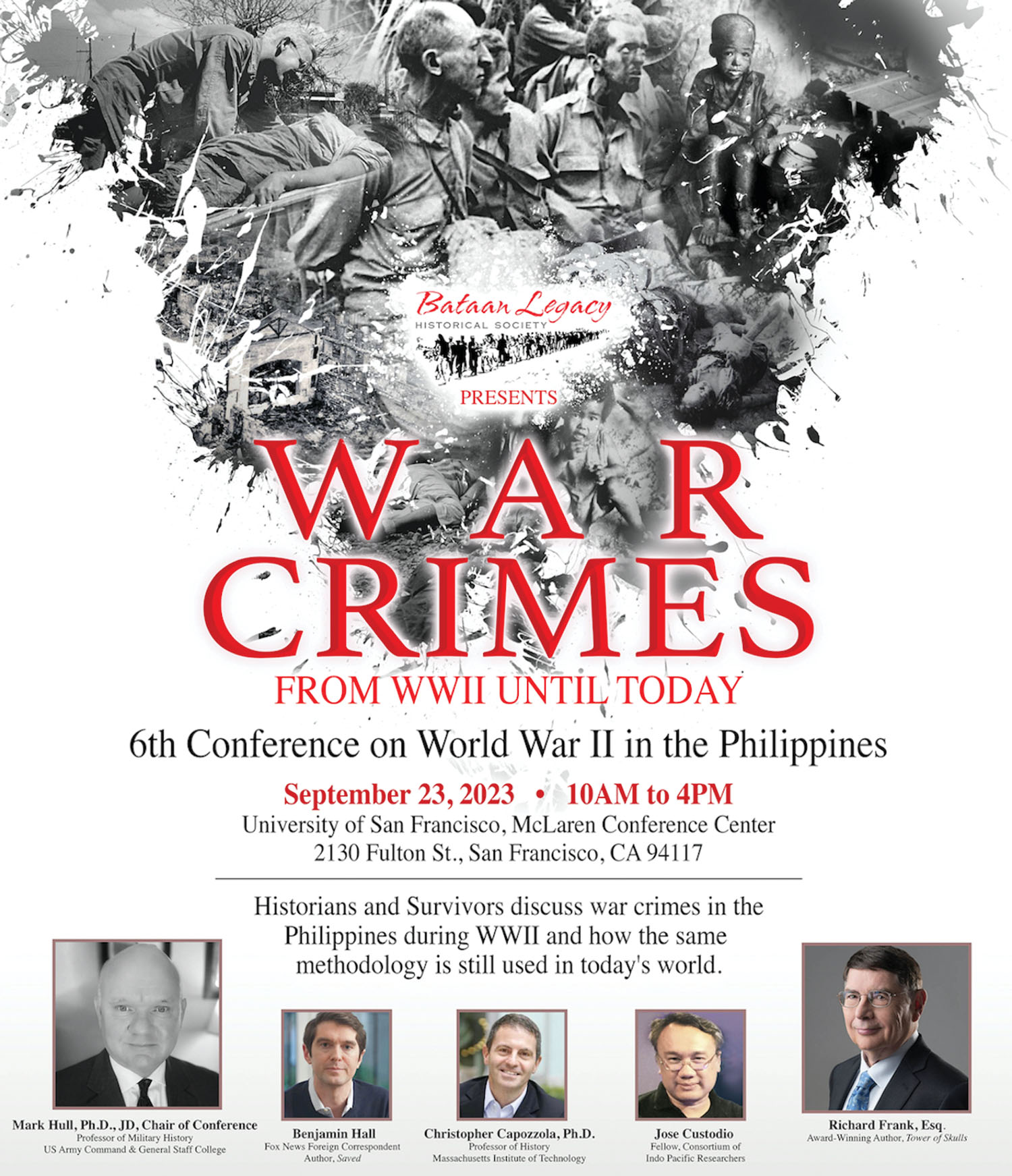 BERKELEY – The Bataan Legacy Historical Society (BLHS) will hold its sixth annual Conference on World War II in the Philippines on Saturday, September 23, 2023, from 10 a.m. to 4 p.m. at McLaren Conference Center at the University of San Francisco.
This year's theme is "War Crimes – From WWII Until Today." The conference is supported by the University of San Francisco's Yuchengco Philippine Studies Program and Masters of Arts in Asia Pacific
Studies, Marines' Memorial Association & Foundation, the Joseph & Mercedes McMicking Foundation, USF Kasamahan, Farkas Center, Consuelo Hall McHugh and Ryan Stinson.
The conference will discuss war crimes during World War II in the Philippines and the Pacific and how they continue to resonate in today's world. Guest Speaker is Vice Admiral Andrew Tiongson, Commander of U.S. Coast Guards Pacific Area and Defense Force West, who is a Filipino-American. Keynote speaker is Philip Kearney, a former war crimes prosecutor for the United Nations Mission in Kosovo and the International Criminal Tribunal for the former Yugoslavia at the Hague.
The chair of this year's conference is Mark Hull, a Military History Professor at the U.S. Army Command and General Staff College. Other speakers include Benjamin Hall, a former war correspondent for Fox News who became a victim of war crimes against the press in Ukraine; Richard Frank, author of the WWII in the Pacific book Tower of Skulls and many other distinguished speakers.
Cynthia Bonta, a survivor of the Los Baños Massacre, will lead a panel discussion on the execution of approximately 1,500 local civilians by the Imperial Japanese Army following the successful rescue by the U.S. Army of 2,147 American and Allied civilian Prisoners of War.
Admission is free for all students and USF faculty. Regular admission is $25 and includes a boxed lunch and parking. There is a pay what you can option. Registration is required through www.bataanlegacy.org and Eventbrite.
(BLHS Release)