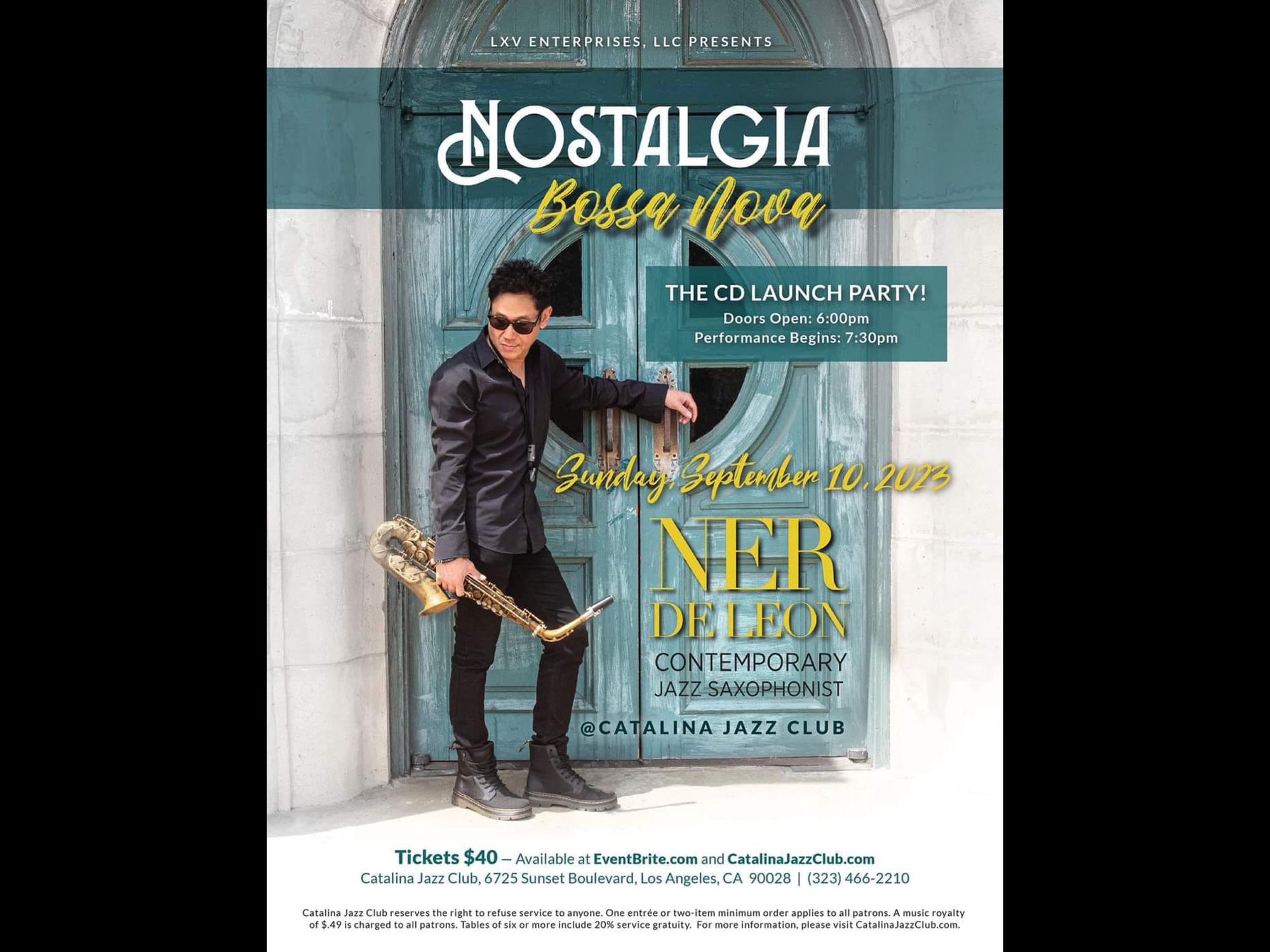 It will be a heartfelt homecoming when jazz saxophonist Ner de Leon debuts brand new music at his one-night only CD launch on Sunday, September 10 at the world-famous Catalina Jazz Club in Hollywood, CA.  The ex-L.A. native, who now calls Dallas, Texas home, will play selections from his new CD, "Nostalgia", a tribute to bossa nova music.  "I'm so excited to come back to L.A. to play for fans," said the saxman. "It's been a while since I've played in L.A. and to have the chance to see family and friends and have them be part of this special night is tremendous!"
Contemporary saxophonist, recording artist, record producer and master musician, de Leon has set the bar high in his 30 years-plus as a performer.  He hails from a long line of musicians and has been playing the saxophone since he was eight years old.  He attended Berklee College of Music in Boston where he developed a new passion, respect and love for his craft, setting the stage for a prolific career that would include performing in big and small venues as a solo artist.  De Leon performed in "Jazzmopolitan" productions held at the Aratani Theater and the John Anson Ford Amphitheater.
De Leon has developed a timber that distinguishes his unique style and sound and which sets him apart from other saxophone players.  He has released eight albums as an independent recording artist.  As a performer, he has traveled to many countries and has plunged himself in different avenues of music, from performing as a studio session player, to a jazz artist in Las Vegas and Los Angeles.
When asked "why bossa nova"?, de Leon replied, "I've always been captivated by the enchanting rhythms and soothing melodies of bossa nova music.  The genre's unique blend of samba and jazz elements creates a laid-back and relaxed atmosphere that resonates with my soul. Bossa nova's harmonious fusion of traditional Brazilian music with modern jazz appeals to my taste for both cultural richness and musical innovation."
As a showman, de Leon shines when performing in any type of crowds – from big venue concerts to private and corporate events and from church functions to jazz festivals.  His style spans a wide genre of music from classical to jazz, pop, gospel R&B, Motown, ballads, dance, cover tunes and so much more.   "Nostalgia: Boss Nova," the CD launch at Catalina Jazz Club, is being produced by Rex Sampaga from RAS Music Group and executive produced by Ted Benito from LXV Enterprises, LLC.
LXV Enterprises, LLC presents
Ner de Leon "Nostalgia: Bossa Nova" the CD Launch
Sunday, September 10, 2023
Catalina Jazz Club
6725 Sunset Boulevard
Los Angeles, California 90028
(323) 466-2210
Tickets: $40 (available at CatalinaJazzClub.com or EventBrite.com)
Doors Open: 6:00pm/Performance: 7:00pm
Catalina Jazz Club reserves the right to refuse service to anyone.  One entrée or two-item minimum order applies to all patrons.  A music royalty of $.49 is charged to all patrons.  Tables of six or more include 20% service gratuity.  For more information, please visit www.CatalinaJazzClub.com. n