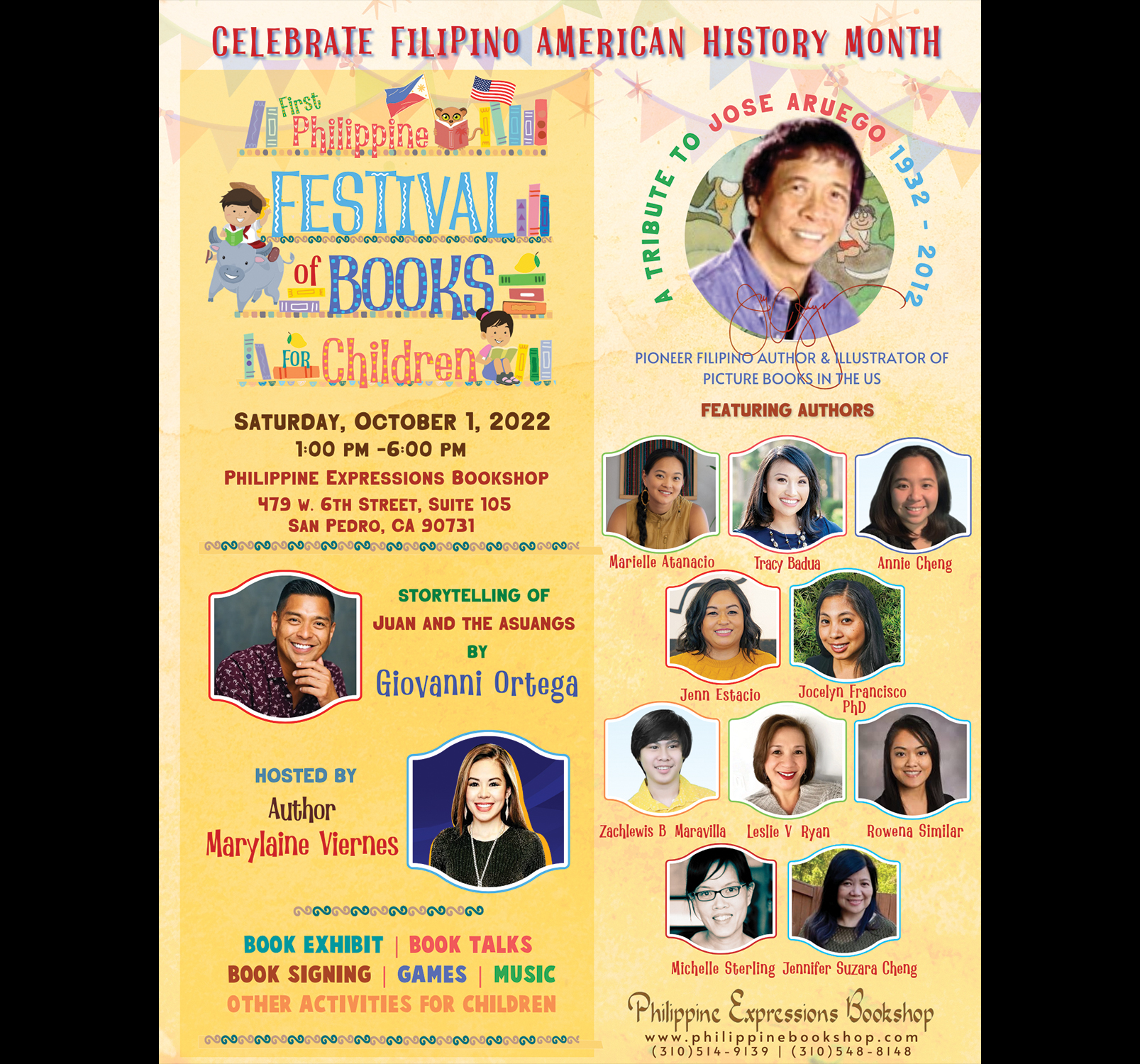 San Pedro, CA − In celebration of Filipino American History Month, Philippine Expressions Bookshop is proud to present the FIRST PHILIPPINE FESTIVAL OF BOOKS FOR CHILDREN. The event will be held on Saturday, October 1, 2022 from 1:00pm to 6:00pm at Philippine Expressions Bookshop, 479 W Sixth Street, Suite 105, San Pedro, CA 90731. The bookshop is located in the historic Arts District of San Pedro, the Port City of Los Angeles.
The mini-Festival, the first of its kind to be held in the US, will honor author and illustrator Jose Aruego (1932-2012), who paved the way for Filipino American children's book authors and illustrators in the US. The success of his first self-illustrated book, The King and His Friends, published in 1969 by Charles Scribner's Sons, launched his writing career and landed him illustration jobs. This was immediately followed by his first Filipino tale, Juan and the Asuangs, which received the Outstanding Picture Book of the Year designation by New York Times in 1970. In collaboration with his former wife, Ariane Dewey, he contributed to the texts of many popular authors, including Robert Kraus and Mirra Ginsburg, with over 70 titles that bear his witty and imaginative characters. His books, self-illustrated or those which he illustrated for other authors, earned the approval of critics, and a number of them have won awards or received similar distinctions, notably: The Day They Parachuted Cats on Borneo; Look What I Can Do!; Whose Mouse Are You?; Milton, the Early Riser; Mushroom in the Rain; We Hide, You Seek; The Chick and the Duckling; A Crocodile's Tale; Owliver; Marie Louise and Christophe; Mushroom in the Rain; Leo the Late Bloomer, and Herman the Helper. In 1976, Aruego received the Outstanding Filipino Abroad in Arts award from the Philippine government. While most of his works are now out-of-print, they are available in practically all libraries in the US. Some titles have continued to be reprinted by various American publishers but sadly, Aruego's name is hardly known to the present members of our FilAm community.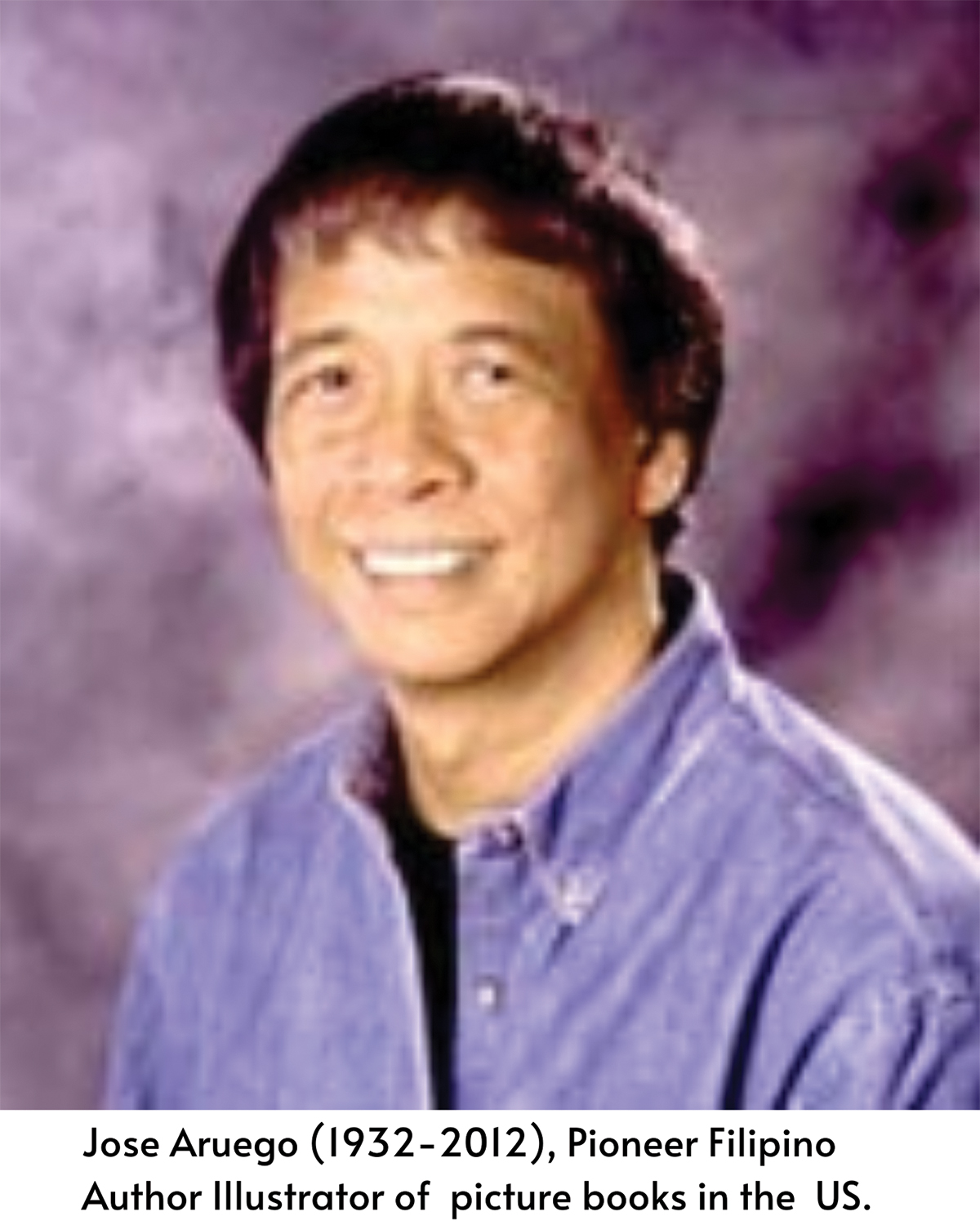 To give homage to, as well as to introduce the spectacular works of Jose Aruego to the younger FilAm generation, a collection of his books will be on display during the Festival, along with a selection of titles that are still in print which will be available for purchase. This family-friendly event will also treat the audience to a storytelling of Juan and the Asuangs by multi-disciplinary performer and FilAm Arts Teatro Artistic Director, Giovanni Ortega, who will bring this beloved tale to life.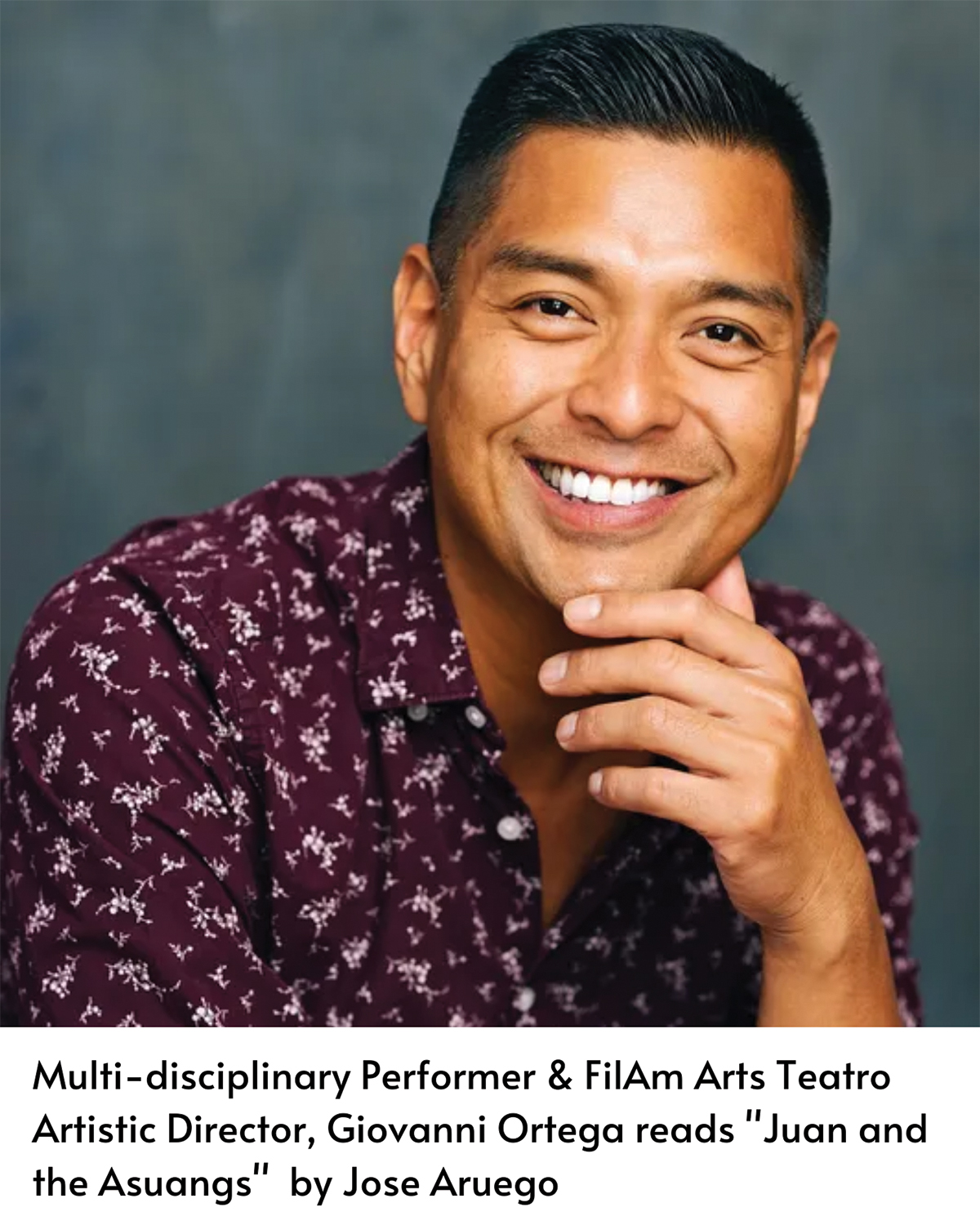 In the bookshop's efforts to highlight and support first-time and rising Filipino American and Filipino authors, some of whom have self-published their works, the bookshop is proud to feature the following authors from Southern California, with two special guests from the San Francisco Bay Area and Las Vegas, Nevada, Marielle Atanacio, author and illustrator of Who Turned on the Sky; Tracy Badua, author of Freddie vs the Family Curse; * Jenn Estacio, author of Buko; Dan Manalang, author of Ambrosia; Zachlewis B. Maravilla, 13 year-old author of A Splendor Adventure; Leslie V. Ryan, author of I am Flippish!; Michelle Sterling, author of When Lola Visits; * Annie Cheng, author of two books: Nurse Mommies are the Best and Nurse Ube Sings Karaoke; Jocelyn Francisco, Ph.D, author of Hay Bahay, the latest of her first Filipino language series which includes: Abakada, Oh My Kulay!, Pamilya Ko and Isa, Dalawa, Tatlo…Ito ay Obalo; * Rowena Similar, author of two books: Rom-Rom Counts to Ten and Rom-Rom & Lola; * Jennifer Suzara-Cheng, author of Tide Pool Adventure", "Ocean Adventure and six Children's Nature Book Series (Bi-lingual, in English & Tagalog) for Global Filipinos; and * Marylaine Viernes, author of Bakey-Wakey Little Baby. Viernes will host the festival's program which will feature book talks, book signings, games, music, and other activities for children.
The Festival opens at 1:00pm and the Program will start at 2:00pm.
The Community Partners for the Festival are Asian Journal and Random Length News, a community paper based in San Pedro, CA. Community supporters include: Adobers.net, FilAm Arts, Filipino American Chamber of Commerce – Greater Los Angeles, Filipino Cultural School, Jun Aglipay, Fred Docdocil, Prosy Dela Cruz, Carol Ojeda-Kimbrough, Giovanni Ortega, and Mark Pulido.
Since Christmas is fast approaching, the Festival will give FilAms a chance to shop early for Christmas. The bookshop would like to encourage the FilAm community to give books as Christmas gifts for children. This will teach them to read for pleasure, and create an awareness at an early age for books that are specially autographed for them by the participating authors. Your purchase of books during the Festival will encourage FilAm authors to write more culturally-oriented books for children of Filipino descent. The Festival is part of the ongoing community outreach program of the bookshop, aimed to increase the awareness of mainstream America to the Filipino presence in the country. In the words of Linda Nietes-Little, owner and founder of the bookshop, "it is also my hope that these authors and many more who will join their ranks in the near future will continue the work that Jose Aruego had started, and put Philippine-related stories for young children in the literary map of the United States."
It is Nietes-Little's finale tribute to the Fil Am community. She is retiring on December 31, 2022 after 38 years of service to the FilAm community in the US and to Filipinos in the diaspora. Established in 1984, visit their online bookshop: http://www.philippinebookshopcom Email: [email protected] Tel Nos: 310-514-9139 Cell and 310-548-8148 landline. During this pandemic, the physical bookshop is open only on Saturdays from 2:00 – 6:0 0pm and by appointment.