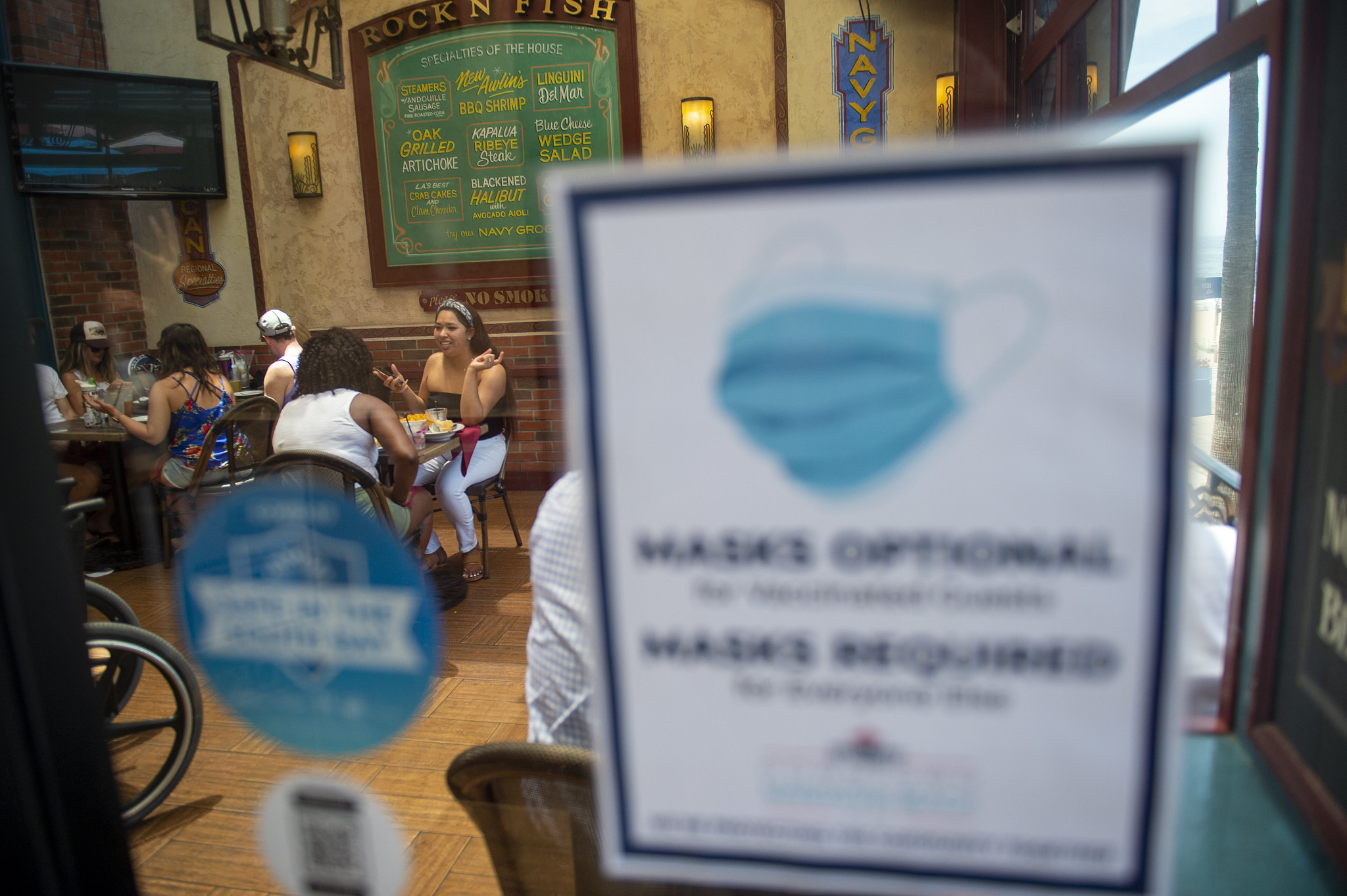 The Los Angeles County Department of Public Health (Public Health) inspectors continue to visit businesses across the county every day to ensure compliance with required safety measures, including masking guidelines and vaccination verification, provide technical assistance, and respond to complaints of non-compliance. Between October 16 and October 22, Public Health inspectors visited 1,008 restaurants, 78 bars, 226 food markets, 26 breweries, wineries or distilleries, 10 nightclubs, 21 lounges, 21 hotels, 35 gyms and fitness centers, 10 hair salons or barber shops, 52 food manufacturing plants, 33 garment manufacturing plants, 22 personal care businesses, 11 office sites, and 5 large outdoor and indoor venues.
Overall, the inspections revealed that while the majority of businesses were in compliance, there is room for improvement with employee masking at garment manufacturers, office sites, bars, nightclubs and lounges, and customer vaccination verifications at bars.  Inspectors noted 73% of garment manufacturers, 73% of office sites, 82% of bars, 80% of nightclubs and 86% of lounges were in compliance with employee masking. Eighty-five percent of bars were in compliance with customer vaccination verifications. Public Health utilizes education as the primary step in gaining compliance, and when compliance is not achieved, enforcement may include issuance of a notice of violation or a citation. Between October 16 and October 22, two citations were issued to schools for noncompliance with Health Officer Orders.
Violations of safety requirements and dangerous conditions can be reported anonymously to Public Health by phone at 888-700-9995 or online at  www.publichealth.lacounty.gov .
Today, Public Health confirms 5 new deaths and 679 new cases of COVID-19.  The number of cases and deaths reflect reporting delays over the weekend. Of the five new deaths reported today, three people who passed away were over the age of 80, and two people who died were between the ages of 50 and 64. To date, Public Health has identified 1,485,769 positive cases of COVID-19 across all areas of L.A. County and a total of 26,552 deaths.
There are 610 people with COVID-19 currently hospitalized. Testing results are available for nearly 9,000,000 individuals with 15% of people testing positive. Today's test positivity rate is 0.8%.
"To the people across our community mourning the passing of a loved one, we wish you healing and peace," said Barbara Ferrer, PhD, MPH, MEd, Director of Public Health. "I am grateful that the vast majority of businesses continue to follow the sensible protections in the State and County Health Officer Orders that help ensure our collective well-being and economic recovery. Thanks as well to the tens of thousands of patrons who are doing their part – getting vaccinated and wearing masks as required. Reducing transmission depends on high compliance with existing safety measures."
Boosters are available for eligible individuals for all three FDA-approved vaccines; Pfizer, Moderna, and Johnson & Johnson. Appointments are not needed at all Public Health vaccination sites where first, second, and third doses are available.
Los Angeles County residents eligible for a booster dose of Pfizer or Moderna COVID-19 vaccine include those who received the second of the two-dose vaccine series at least 6 months ago and are either:
65 years and older
Age 18 and older who live in long-term care settings
Age 18 and older who have underlying medical conditions
Age 18 and older who work or live in high-risk settings
For people who received the Johnson & Johnson COVID-19 vaccine, booster shots are also recommended for those who are 18 and older and were vaccinated two or more months ago.
Vaccinations are always free and open to eligible residents and workers regardless of immigration status. Visit:  www.VaccinateLACounty.com  (English) and www.VacunateLosAngeles.com  (Spanish) to find a vaccination site near you, make an appointment at vaccination sites, and much more. If you don't have internet access, can't use a computer, or you're over 65, you can call 1-833-540-0473 for help finding an appointment, connecting to free transportation to and from a vaccination site, or scheduling a home-visit if you are homebound.
Vaccinated middle and high school students are eligible for free UCLA football tickets. UCLA has partnered with Public Health to give away free tickets to a UCLA football game at the Rose Bowl to middle or high school students in L.A. County who've received at least one dose of a COVID-19 vaccine, while tickets last. Students aged 12 to 18 who've received at least one dose can sign up for the free tickets online by visiting:  http://ph.lacounty.gov/DPHUCLAVaxforTix.
COVID-19 Sector Protocols, Best Practices, COVID-19 Vaccine Dashboard, COVID-19 Surveillance Interactive Dashboard, Recovery Dashboard, and additional actions you can take to protect yourself, your family and your community are on the Public Health website,  www.publichealth.lacounty.gov.