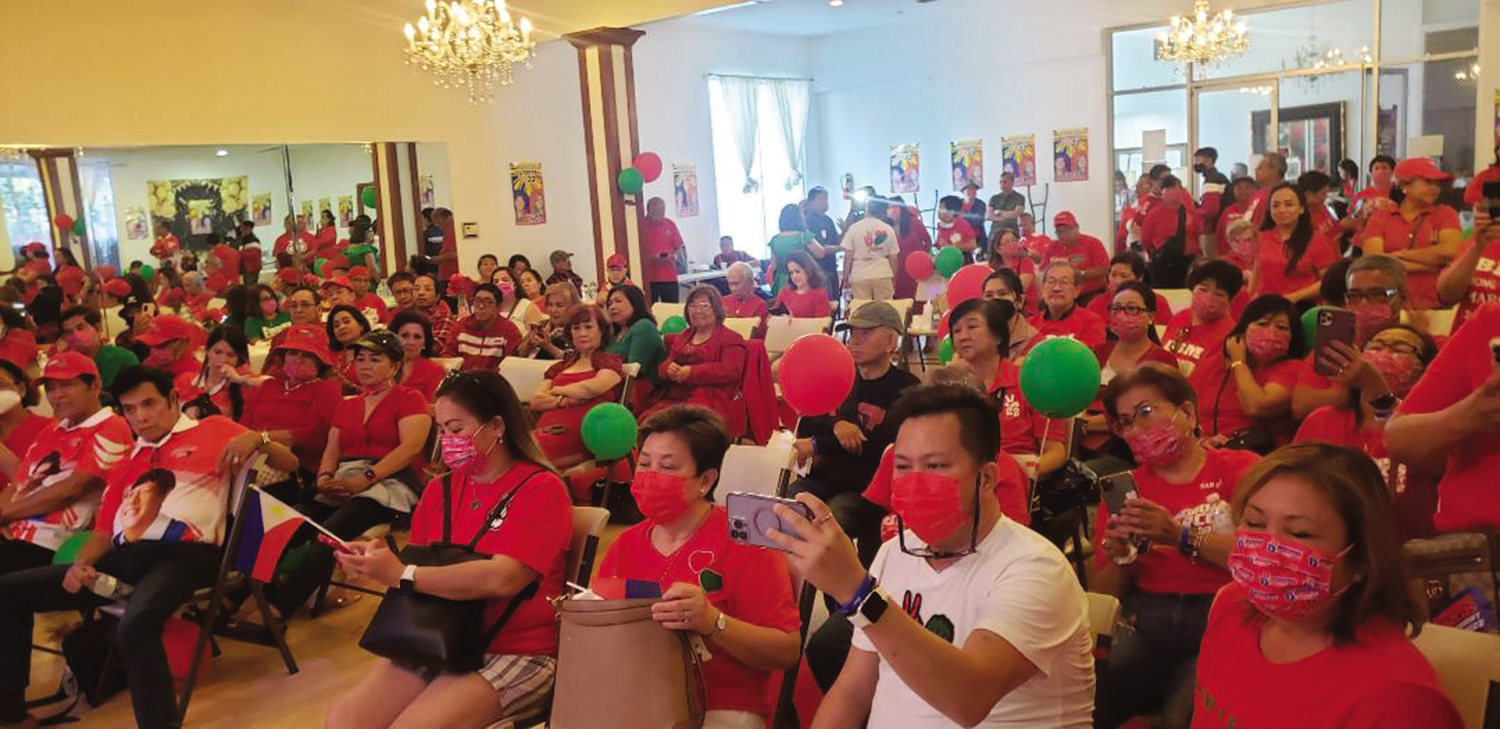 LOS ANGELES – Some 300-strong Filipino American supporters of Uniteam "Sama-samang Babangon Muli" presidential candidate Ferdinand "Bongbong" Marcos Jr. (BBM) and his running mate Davao City Mayor Sara Duterte-Carpio are optimistic that this "most qualified tandem" would win in this coming May 2022 elections.
Uniteam, in cooperation with BBM 2.0 (USA), held a grand rally last Saturday, April 9 at the Filipino American Community of Los Angeles (FACLA) in Los Angeles's Historic Filipinotown.
BBM 2.0 (USA) is the U.S.-based counterpart of BBM 2.0, which is an application (app) created by BBM-Sara party national chairman Jonathan "Atan" Bocaling to effectively monitor the number of tandem's supporters all over the world. This app also includes the list of all volunteer campaign managers who are tasked to administer and oversee the BBM 2.0 app in their respective jurisdictions.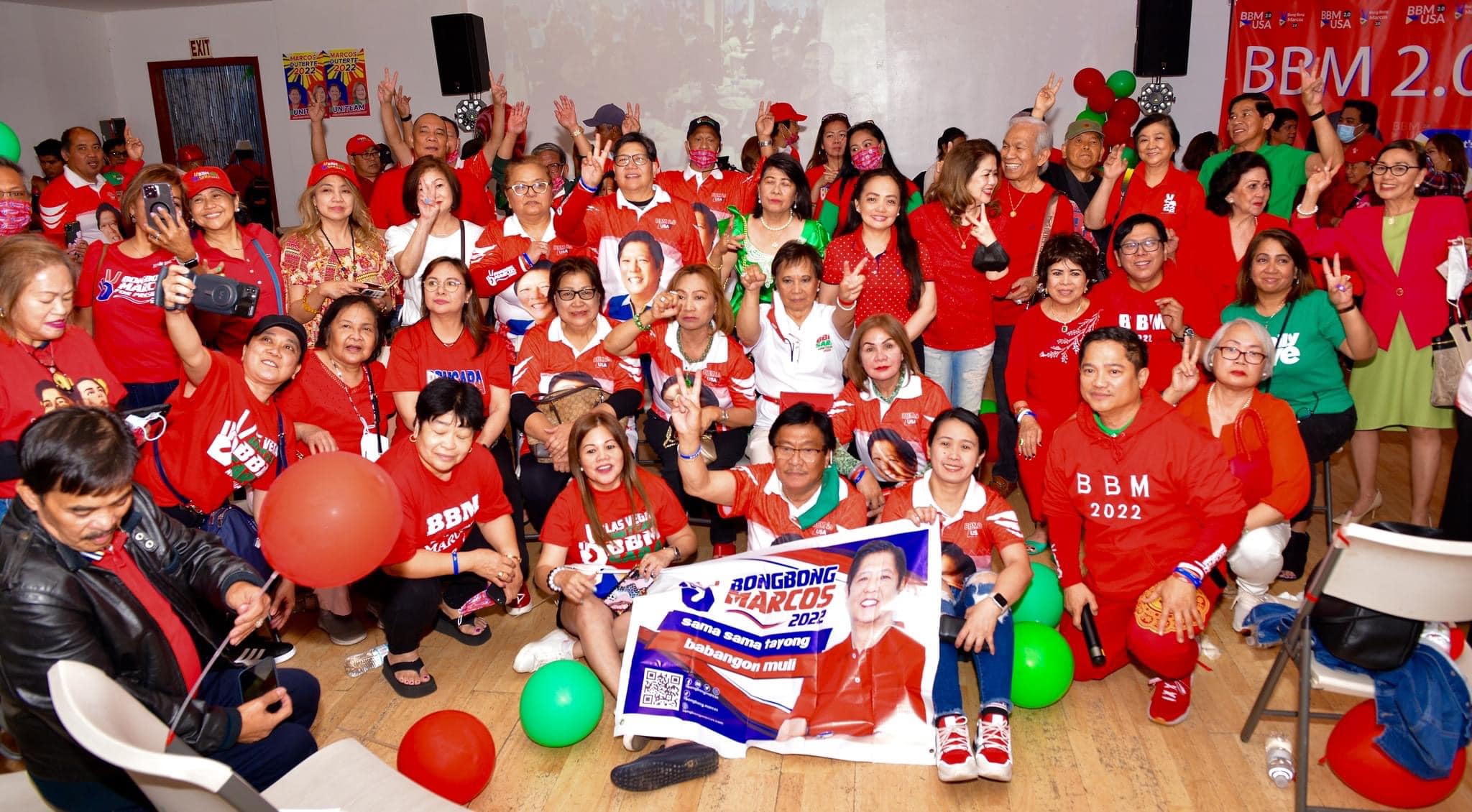 Tancredo Guray Jr., BBM 2.0 (USA) president for California, told the Asian Journal at the group's last rally in the Southern California leg, that all of their members are rooting for Bongbong Marcos and Duterte-Carpio to take the next top two posts of the Philippines.
"We believe that he is the most qualified and more experienced (among all the other presidential candidates) being able to serve the government as governor, congressman, and senator. To us, he's the right person to lead our country," Guray, who has always been an avid supporter ever since BBM ran for the vice presidency in 2016, said.
According to Guray, with Marcos and Duterte-Carpio's leadership, there would also be a continuity of programs of the present administration.
"I also believe that BBM will continue the programs of President (Rodrigo) Duterte. We need to continue carrying out all these good programs and reforms of President Duterte," Guray said.
Guray said they have participated in more than 10 rallies and caravans for the Uniteam. To date, the BBM 2.0 (USA) has members in California, Las Vegas, New York, Florida, and other U.S. states.
BBM 2.0 (USA) vice president for California Philip Jaramilla, for his part, believed that Marcos' commitment to enhancing measures that would ease up doing business in the Philippines and restore investors' confidence, has made him and his family want to vote for Marcos.
Jaramilla, who owns a biotechnology and pharmaceutical components and fabrication manufacturing company, Fluid Line Technology, said there are a lot of investors who would want to do business in the Philippines but are wary about several business obstacles such as higher taxes, corruption, peace and order, and lack of efficient supply of electricity and water.
"We need a leader who would address all of these concerns in the business sector," Jamarilla said, noting that BBM reportedly has the potential to do great in implementing key reforms in the business industry.
In an earlier statement issued in reaction to the latest World Bank's Doing Business report in 2020 where the Philippines ranked 95th, an improvement from the previous rank of 124th in 2019, Marcos was quoted as saying that "jumpstarting our economy would be a top priority for us, should we be given the mandate by the people in this year's elections."
"It only means that businesses will need to focus on being efficient. The government can help by instituting policies that will make it easier for them to do this," Marcos earlier said.
Husband and wife Ron and Jocelyn Fernando, in an interview during the rally, said they never doubted BBM's capability to "bring greatness back to the Philippines." Ron works at Sync Brokerage, a boutique real estate firm with offices in Los Angeles and Miami, specializing in luxury and commercial real estate markets.
"Bongbong Marcos comes from the Marcos legend, and the (Marcos) family when it comes to politics, they are really good. I think, moving forward the Philippines will be in good shape under his helm if he wins this election," Ron Fernando said.
"Sara Duterte, with her background in Davao, I'm sure she would be a good support for Bongbong," Fernando opined.
In a video message played during the rally, Marcos thanked all his supporters in Southern California.
"I would like to congratulate you and thank you for the efforts that you have done to help our campaign and to continue to spread the message of unity that is the message of our campaign. Thank you for all that you have done and until we succeed in victory," Marcos said.
Actress Jobelle Salvador, who flew in from Las Vegas, attended the rally.
The rally was also done in partnership with Partido Federal ng Pilipinas (PFP) under its Philippine coordinator and former congresswoman Maite Defensor. Other rally coordinators are Uniteam overall coordinator for USA/Canada Chona Verona Lopez Galvez; BBM 2.0 (USA) vice president for Media Affairs Larry Pelayo; and Barbie Sanchez and Luzviminda Marcos, Marcos' close relatives who are based in California.
Last March, Historic Filipinotown was the site of a pink caravan for Fil-Am supporters of Vice President Leni Robredo and Sen. Kiko Pangilinan's bid for the presidency and vice presidency of the Philippines.