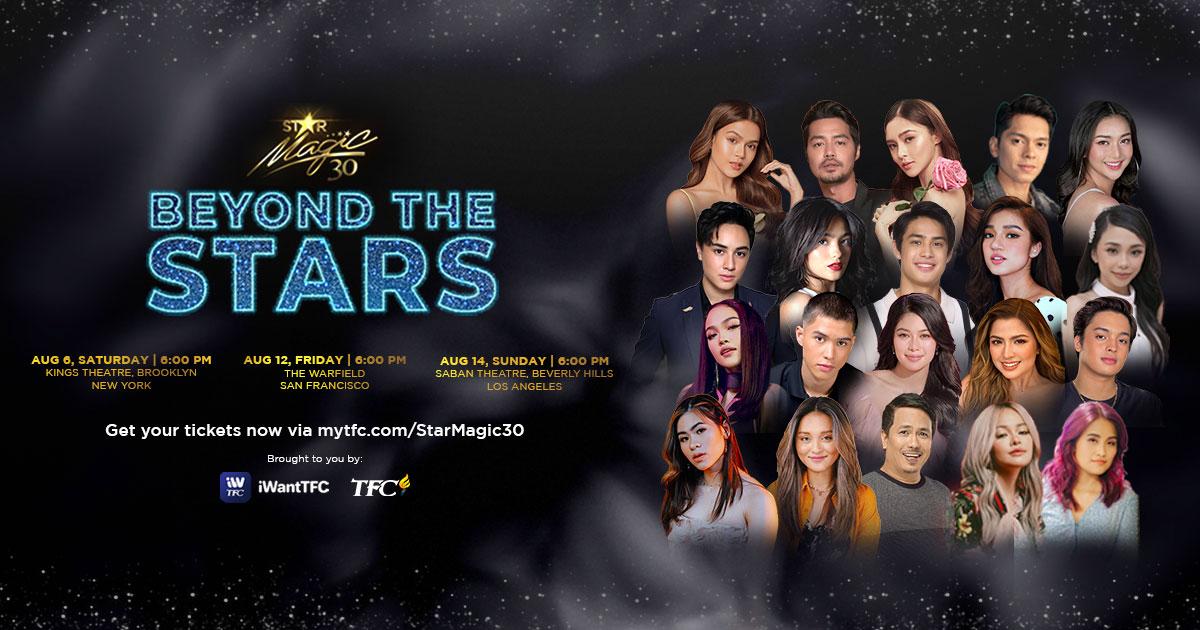 LOS ANGELES – "It's going to be a different kind of magic". ABS-CBN's talent agency Star Magic is expected to wow hundreds of its fans from all over the United States as it brings "Beyond the Stars", one of its biggest global events in its 30 years of existence.
During a media conference to launch the U.S. concert tour, Star Magic head Laurenti Dyogi said the phenomenal two-hour concert extravaganza, showcasing the best-staged entertainment that only the brightest stars of this generation can deliver, will be held in New York, San Francisco and Los Angeles this month.
The shows which will be so far, the biggest in Star Magic's history, Dyogi said, would feature stellar performances "like you've never seen before".
Dyogi said as the U.S. concert will be part of the 30th Anniversary celebration of Star Magic, it would not only be continuing the tradition of the talent management agency of bringing exceptional shows but would also be a way to express gratitude to all their supporters in the U.S.
"We would like to  continue the Star Magic's tradition. Not only this is a part of the celebration of the 30th anniversary of Star Magic but this is also our way of reconnecting with all our Kapamilyas in North America," he said.
Dyogi, who is also the ABS-CBN Head of TV Production, said the three-night shows would also be a welcome respite for all our kababayans who have been secluded for a long time because of the pandemic.
"It's been two years of tough times and we survived two years of global uncertainty and we have endured. Now, it is also time to celebrate and inspite the challenges of traveling and mounting a show abroad, this is really our humble way of giving back to our loyal Kapamilyas so that is why we are having not just one but three shows in total both the East and West coasts," he said.
As Star Magic wants to mount spectacular and some kind of "unique" from its previous shows in the States, Dyogi said they would be offering an unconventional line-up of talents to perform during the shows.
"After two years of hiatus, we want something new, something big. So we are bringing in new stars and we have also reliable stars like Zanjoe (Marudo), Kim (Chiu), Carlo (Aquino) as part of the team and so they will be the ones heading these concerts. But we have the younger ones as you said the past two years were very active on social media, on broadcast, everywhere, it's a mix of reliables and the old ones are solid parties and the new upcoming artists of Star Magic," he added.
For three decades now, Star Magic has served as home and training ground to the biggest and brightest names in Philippine entertainment. It has provided workshops in acting, dance, art, script appreciation, styling, and voice production as well as physical fitness training to develop well-rounded and world-class performers with discipline and the proper work ethic. Its artists are also encouraged to use their influence for good through supporting advocacies like those of ABS-CBN Foundation.
This is also consistent, he said, with Star Magic's commitment to going global, not only through expansion of content production, but through championing the Filipino talent worldwide.
"When we go to the States this coming August, we also planned out some immersion  programs for them and some workshops they can take on so we can also elevate their artistry and their craft so that they are ready to conquer the world and be ready to be part of the global arena of international artists," Dyogi, who took charge of the talent management agency in early 2021, said.
Global events like these, he said, would  help Star Magic talents hone their skills and give them exposure in the international global showbusiness industry.
"We are trying to keep the tradition started by Mr. M (Johnny Manahan) but at the same time, we are trying  to explore other things.  We are re-creating our content. We are very active in social media. We are encouraging all our artists to be active in social media, and we now entering a new phase of getting to the live shows again. Star magic will definitely create new content for our artists and a lot of our projects will be a way of marketing them not only in the Philippines  and TFC (The Filipino Channel) but globally,"he said.
Dyogi, who is fondly called by his talents as Direk Lauren, said they are very excited to hold these concerts and give out kababayans very distinct shows. "I hope you are all excited as we are, to be returning to America in August for Star Magic's 30th  anniversary and Beyond the Stars concert. Hope to see you in one of our concerts," he said.
Chiu, who has been in most of the shows of the ABS-CBN in the U.S. in the past, said what set these concerts apart from the previous ones are the "surprises" that they will give to their fans.
"With Direk Lauren as our captain of the ship now, it feels different and iba na sya now and we're gonna surprise you kung saan man kayo dyan sa New York, Sanfo, LA. It's gonna be a new taste of show na ibibigay namin. It's different compared with ASAP  or past Star Magic shows that we did before. This is going to be something different, something new, exciting and lots and lots of talents na ipapakita namin na di pa nakikita ng maraming tao especially our Kapamilyas," Chiu said.
Two of the most popular talents of Star Magic, Donny Pangilinan and Belle Mariano, whose "Donbelle" tandem became a hit after their TV series "He's Into Her" got remarkable response from showbiz enthusiasts, shared the same excitement of performing for the first time in the U.S.
As this is her first time to travel to the U.S. and perform in front of a U.S. live audience, Mariano said she wants to give her all in the shows.
"What we want to show and bring to them is home. A taste of home. We want to make it the best. We had rehearsals, workshops those are the factors that would help us bring the best to them," Mariano, who would love to try eating hotdogs sold in food carts in the streets of New York, said.
Pangilinan, son of actress Maricel Laxa and motivational speaker Anthony Pangilinan, said they are excited to meet their U.S.-based followers who have been dying to meet with them in person.
"The fact that we will see our overseas supporters for the first time, I'm sure we've seen you a lot but only through social media, digitally. We felt your support kahit di namin kyo nakikita physically, like what Kuya Zanjoe said, this is our way of thanking all of you  for your overwhelming support for us and we promise to give you the best and we are just so excited, we have no words to describe how cool this is and super thrilled kami na makasama kayo. This is our (Belle) first out-of the-country date," Pangilinan, a former VJ in Myx, said.
Maymay Entrata, who became prominent after winning the reality game show, Pinoy Big Brother (PBB) five years ago, promised to sing "live" during the shows. Dyogi is also the executive producer of PBB.
Entrata said they will also see to it that they will bring out laughter and joy to our kababayans all through out the shows.
"Magiging masaya po sila sa simula hanggang matapos po ung show at yun po yung sinusigurado namin. This is going to an explosive show that they will enjoy from start to finish that we will assure our audience. Each and everyone of us will showcase our own talent that they have never seen before," Entrata, who joined Star Magic in 2017, said.
The other Star Magic talents lined up to join the three nights of exciting entertainment are: Andrea Brillantes; Gigi De Lana; AC Bonifacio; Kyle Echarri; Angela Ken; Sab; Lian Kyla; Janine Berdin; Eric Nicolas; Edward Barber; Alexa Ilacad; KD Estrada; Maris Racal; and Charlie Dizon.
New York Show will be held in Kings Theater, Brooklyn on August 6, 2022. San Francisco Show will be held in The Warfield on August 12, 2022. Los Angeles Show will be at Saban Theater, Beverly Hills on August 14, 2022.