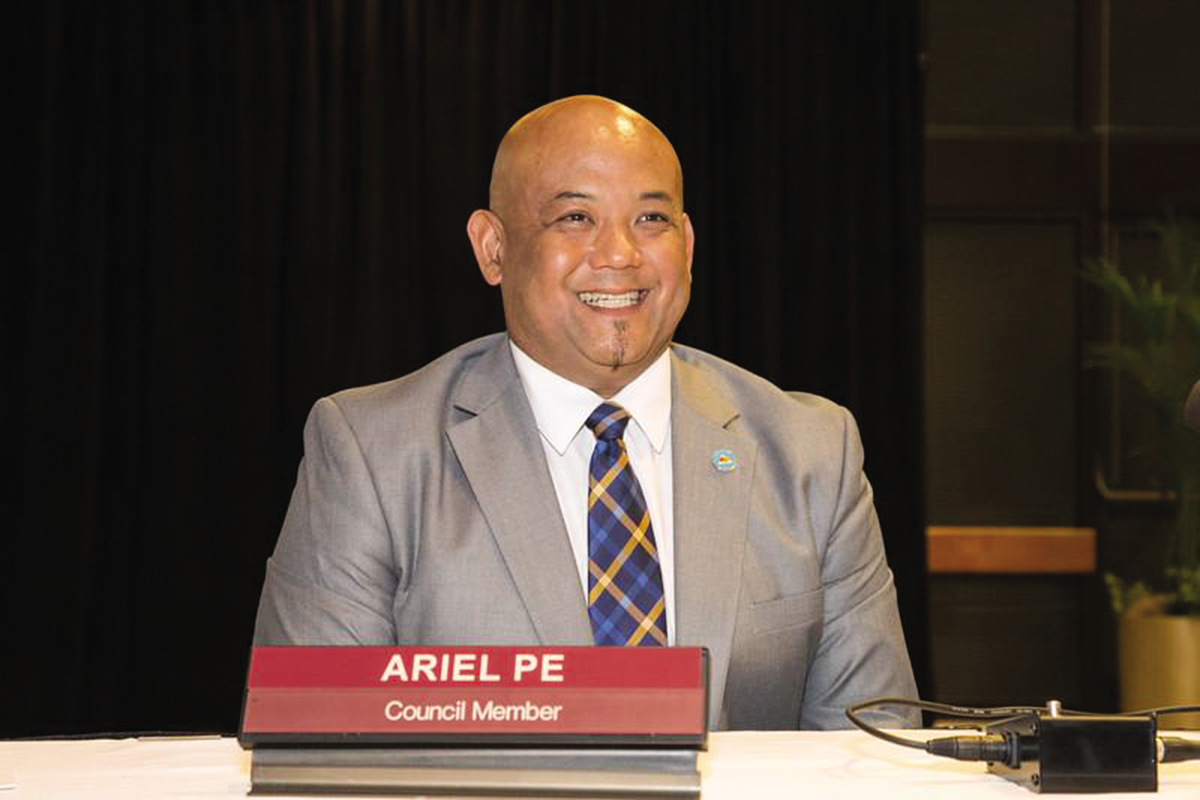 COMPARED to other Filipino American elected officials in California, Ariel Pe, Lakewood's newly-installed vice mayor is relatively unheralded in the local media.
Is it by design or by the circumstances beyond his control when he was first elected to the Lakewood City Council in March 2020 when the COVID-19 pandemic was raging on planet earth?
After two years, Pe was elected vice mayor on April 12. His term runs through March 2024.
Yes, Virginia, Ariel Pe, who is of Filipino-Chinese heritage, is the vice mayor of Lakewood. It's a quantum leap for a compatriot to win in a predominantly white community. He and a two-term incumbent won the two open seats out of seven candidates two years ago.
Meeting Councilmember Pe was providential. I was surprised when he was introduced as the councilmember of Lakewood, California during the second Meet & Greet campaign of then-candidate and now Cerritos Councilmember Lynda Johnson at the gated Shadow Park enclave.
I exclaimed excitedly, "How come you only surfaced now?" Before he could respond, I told him we'll meet again and catch up so I can write about him. Little is known about this role model leader, the first Filipino American elected official: first as councilman and then vice mayor of Lakewood.
Lakewood is 9.5 square miles located in southern Los Angeles County and about 23 miles southeast of Los Angeles with a population of 79,919 as of January 2020.
Lakewood is not known for being an Asian or Pacific Islander city or well-populated by Filipino Americans unlike its neighbor Cerritos, Carson or the densely-populated Long Beach.
Vice Mayor Ariel Pe started his political journey when he was asked by then-Mayor Lakewood Mayor Steve Croft who pulled him aside after a meeting of the Rotary Club of Lakewood to consider running for City Council — knowing his various involvement in the Lakewood community and numerous Fil-Am organizations. He was surprised at the suggestion. Initially, he demurred at the prospect of running but then he decided to give it a try and won in his first foray into politics.
He attributed his victory to the support of his immediate family, friends and various non-profit organizations he was involved in. He said, "By being heavily engaged in voluntarism at all events in the organizations that I belong to, It allowed me to connect to our diverse community on a service level which in turn bridged my reach to our own Fil-Am community."
Pe's campaign team was composed of his wife Karmina, (a school teacher at Paramount Unified School District), his only child and young daughter Natalia, mom Rosario, dad Sid, campaign managers Edgar Arranda, and Jose Solache of Lynwood, Lakewood Councilmember and new Mayor Steve Croft, business owner Joe Ung, Diane Dubois and retired Lakewood Mayor Joe Esquivel. "And all my friends," he added.
Pe, 51, was born in Culver City to parents Isidro Pe, an engineer and a native of Coron, Palawan, and mother Rosario, a nurse originally from Cubao, Quezon City who immigrated to California in 1968. The family moved to Lakewood in 1970. He is a proud product of the Lakewood community and local schools including St. Pancratius Elementary School, Lakewood, St. John Bosco HS Bellflower, Cypress College and Cerritos College and Cal State University Long Beach and graduated with B.S. Business Administration with an emphasis in Marketing.
He is a small business owner of a screen printing shop, Labwerkz Print Shop, in Lakewood after a successful marketing career for global apparel and product companies, an educator and advisor for the Los Angeles Small Business Development Center Network.
Prior to joining the City Council, Ariel also known as Ari, was involved with numerous community groups. He serves or has served on the board of directors of the Greater Lakewood Chamber of Commerce, Rotary Club of Lakewood, Lakewood Family YMCA, Long Beach City College Foundation, St. Joseph High School Board of Governors, Knights of Columbus Council 15736, Bellflower Unified School District's Career Technical Education Board, Lakewood Meals On Wheels and Pathways Volunteer Hospice.
Pe represents Lakewood on the Gateway Cities Council of Government Board and the Southern California Association of Governments (SCAG) general assembly and several committees.
The deputy mayor is also Lakewood's representative to the League of California Cities (LA County Division), and alternate representative to the California Contract Cities Association, a member of the League's Asian Pacific Islander caucus, and currently serves as a member of the Community Services Policy Committee.
When asked if he was confident in winning a Lakewood council seat for the first time considering the challenges he went through, Pe responded with a flat NO. "I was not confident at all. I was campaigning for an at-large election for two open seats with seven candidates.
The following are a few questions I posed to Vice Mayor Ariel Pe:
DEN: What were your challenges in running for the City Council of Lakewood?
AP: Asking for money for funding the campaign, understanding how political campaigns work and all the nuances that go along with it. Also not having a political machinery to work with.
DEN: Did you have issues with name recognition as a candidate being a Filipino American?
AP: Yes, because my last name is Pe (Chinese) and the Lakewood majority who vote are not from the minority community.
DEN: What's your advocacy or platform as a Lakewood councilman?
AP: It's public safety, making sure that the Lakewoodians go home to a safe neighborhood. Seniors, making sure we have wrap-around services and activities so they can enjoy the community they have built; Youth, making sure they have access to schools, sports and a city that supports them to be successful. They will be the future leaders of this community.
DEN: What are the immediate needs of Lakewood and its residents that need to be addressed?
AP: Public safety, with the issues going on with criminal activities. We have to make sure our residents are protected.
DEN: What's your long-term goal as a public servant?
AP: To protect the community and city and make sure that the youth of Lakewood have the opportunity.
As a parting shot, the history-making Fil-Am public official said, "My passion is to give back to the community using what I've learned and use my network to build and grow. One Community, One Family." He also invoked the motto of Rotary International of which he is an active member: "Serve others, above self."
* * *
The opinions, beliefs and viewpoints expressed by the author do not necessarily reflect the opinions, beliefs and viewpoints of the Asian Journal, its management, editorial board and staff.
* * *
The author can be reached at [email protected].