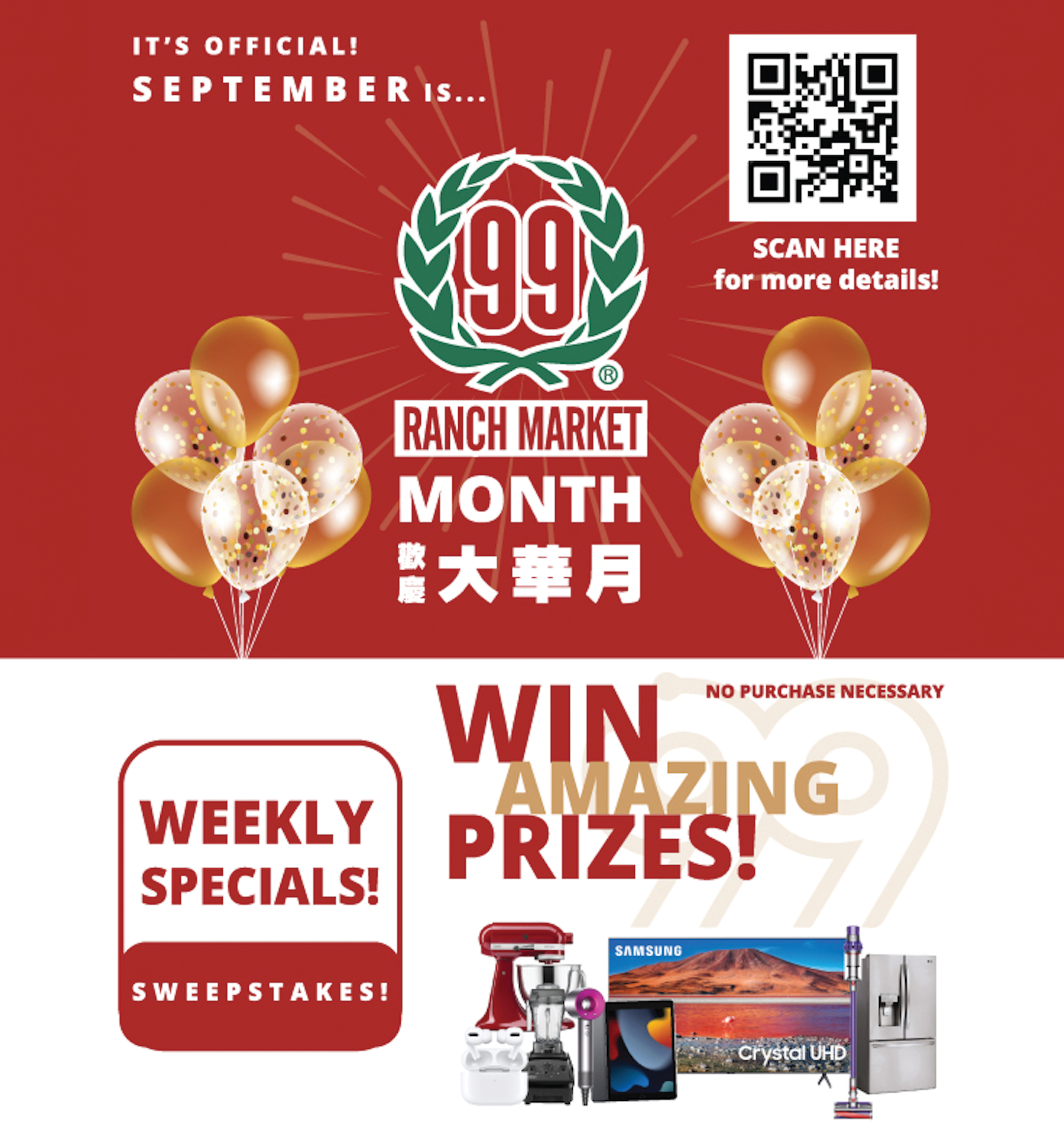 IN the golden autumn season, the "9.9 Chinese Month" is officially here, along with the largest promotional event of the year. As a leading Asian supermarket chain in the United States, 99 Ranch Market continues to provide quality products and services to all its customers. During this event, 99 Ranch Market will launch the biggest discount for all categories for the whole month.
In addition to numerous sale events, the "99 Ranch Month" also prepares the biggest online Sweepstakes event in history for all customers. In collaboration with CHIMEI, PAFCO, I-MEI, Lee Kum Kee, and other supportive vendors, 99 Ranch Market has prepared prizes worth tens of thousands of dollars for this event.
The sweepstakes will be open from 12:00 midnight on September 9 to 11:59 p.m. on Sept 30, 2022. By scanning the QR code and logging on to the sweepstakes page, one can participate and have a chance to win amazing prizes.
The list of prizes includes LG refrigerator, Samsung 85-inch TV, Dyson V10 vacuum cleaner, Dyson hair dryer, iPad, Airpods Pro, and more (For details of prizes, number of prizes, and winning rules, please refer to the sweepstakes page or visit the website of 99 Ranch Market.)
This sweepstake is open only to legal residents of Arizona, California, Maryland, Massachusetts, Nevada, New Jersey, New York, Oregon, Texas, Virginia, or Washington who are at least 18 years old. No purchase is necessary to enter. All winners will be randomly selected and contacted by email or phone on October 14, 2022.
The specific ways to participate in the Sweepstakes are as follows:
Scan the QR code to enter the landing page of the sweepstakes event.
Enter your information.
Review the rules and click "I have read and accept the Official Rules and Regulations" to confirm your agreement.
Click "Enter to Win" to draw the prize.
Follow us on social media to qualify for additional opportunities, or to provide your email address. At 99 Ranch Market, "For 100, We Try Harder."
Remember, scan the QR code to participate and win the prize. For more information about 99 Ranch Market Month, please refer to the posters in-store and on the official website (www.99ranch.com).
*If for any reason the event cannot proceed as planned, the organizer reserves the right to cancel, terminate, modify, suspend and continue the event at its sole discretion. 99 Ranch Market reserves the right of final interpretation.
(Advertising Supplement)