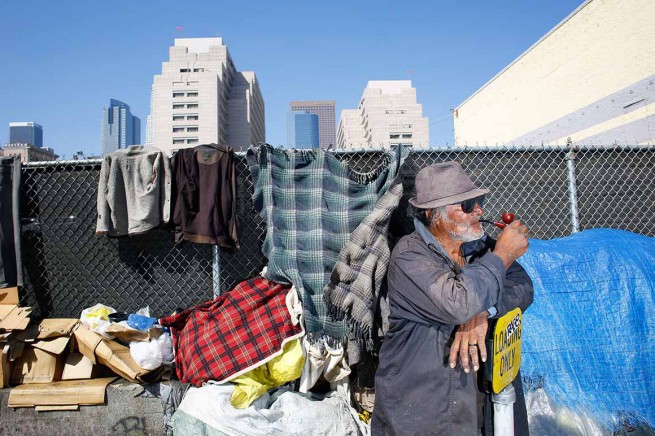 The City of Los Angeles is notorious for having the largest population of homeless people in the United States.
Furthermore, LA has more homeless United States veterans than any other city in the country.
According to the Los Angeles Homeless Services Authority (LAHSA), there are more than 45,000 homeless individuals in the county with veterans covering about 10 percent of that population.
Over the last few years, the city — led by Mayor Eric Garcetti — has been collaborating with the Department of Veterans Affairs (VA) and community organizations and nonprofits to zero-in on the issue of veteran homelessness.
In 2016, veteran homelessness in LA dropped 32 percent from 2015 due to collaborative efforts made by local leaders and organizations, the city and the federal government.
Through conversations with the community and one-on-one interactions with the homeless Veterans themselves, the collective team continues to learn and address the issues that plague the homeless Veteran community.
"We cannot have, in this city and in this country, a single homeless Veteran," Garcetti asserted at a special session of the LA Veterans Alliance on Thursday, January 5 at the Bob Hope Patriotic Hall, which is a historic building established as a resource center for U.S. veterans.
Today, there are 8,000 formerly homeless veterans in the city of LA today who were able to find housing through the city, county and VA's efforts. There are, however, still more than 1,200 veterans today without a home.
"Today let's commit ourselves today in continuing in that work, to not rest until that number is zero," Garcetti added.
One of the key programs is the Housing and Urban Development-VA Supportive Housing (HUD-VASH) voucher, which the HUD and the VA created to provide rental assistance among other services for homeless and in-need Veterans.
In LA, more than 3,400 veterans have been issued HUD-VASH vouchers, but the search for landlords that accept the HUD-VASH voucher proved to be troublesome for so many homeless veterans in the famously rigid LA rental housing market.
There are hundreds of veterans in LA today struggling with this very issue, with some veterans experiencing rejection from more than a hundred landlords.
Last year, national and local leaders established the Homes for Heroes program through United Way of Greater LA, which was a conscious effort to recruit landlords that will accept federal rent subsidies – like the HUD-VASH voucher – and lease units to homeless veterans.
Since then, the program has garnered more than 200 landlords' support, housing hundreds of homeless veterans in the city.
Garcetti – who serves as a Lieutenant in the U.S. Navy Reserve Information Dominance Corps – said the issue is a personal one for him.
His grandfather, Salvador Garcetti, emigrated from Mexico to Los Angeles when he was a child. His youth and adolescence were rough: he failed to graduate junior high school, got into trouble and was arrested by none other than Tom Bradley, who was then a police chief for the LAPD.
He then volunteered his efforts in World War II as a Sergeant in the U.S. Army, fighting alongside General Douglas MacArthur in the Philippines. When the war ended, the elder Garcetti was awarded citizenship, got a scholarship to USC and went on to build a life for himself and his family.
"His service allowed him to lay down the groundwork that allows me to be standing here today as your mayor, and that's why I feel so deeply about this issue of, not only homelessness, but veteran homelessness specifically," Garcetti said, adding that the way to combat homelessness is through "one story at a time."
Minnesota native Todd Edhlund joined the Navy in the 1980s and was looking forward to a career in the service. For him, it was a way to "escape" Minnesota and build a life for himself.
But when he tore all the ligaments in his right foot during an exercise, he knew his plans were kaput. When he approached the VA, it didn't have the programs and resources that existed today.
"Back then the VA wasn't very proactive so they just gave me an honorable discharge and basically said, 'Good luck,'" Edhlund said.
Over the next 30 years, Edhlund's struggled with his injury but managed to stay afloat and, one that point, moved to LA. But the pain was so severe that it caused more injuries and the medical bills kept piling up. He soon found himself broke with no other option than to turn to living in his car.
"I never thought that I would call myself homeless, but I had to," the Navy veteran remarked. "It's one of those humiliating things that can happen to a person, when you don't have any other option than living in a car. Everything felt impossible to overcome."
About two years ago, he learned about the growing resources the VA was now offering, and after a visit to Bob Hope Patriotic Hall, discovered that he was eligible for many programs for struggling veterans.
"I went to Bob Hope after I lost some hope," Edhlund quipped, noting that a year and a half later, he was able to find a studio apartment in Boyle Heights.
Over the last three years, the VA has promised to remain diligent in serving its Veterans so another Veteran doesn't have to face years of uncertainty, like Edhlund, VA Secretary Robert McDonald said.
"We are going to sprint to the finish and I commit to you that the Department of Veterans Affairs will be with you every step of the way to end Veteran homelessness," VA Secretary Robert McDonald said, assuring that VA has transformed as a proactive department that puts "the veteran at the center" of its mission.
McDonald acknowledged that there's far more work to be done in LA to combat the issue, but also praised the city's leadership for its achievements in the last two years.
"I'm proud of what's happened in Los Angeles, and I use Los Angeles as an example city for everywhere I go," McDonald said. "I use the leadership of the mayor and the leadership of the county supervisors as the example of what can happen if we work together as a team." (Klarize Medenilla/AJ Press)
Facebook Comments